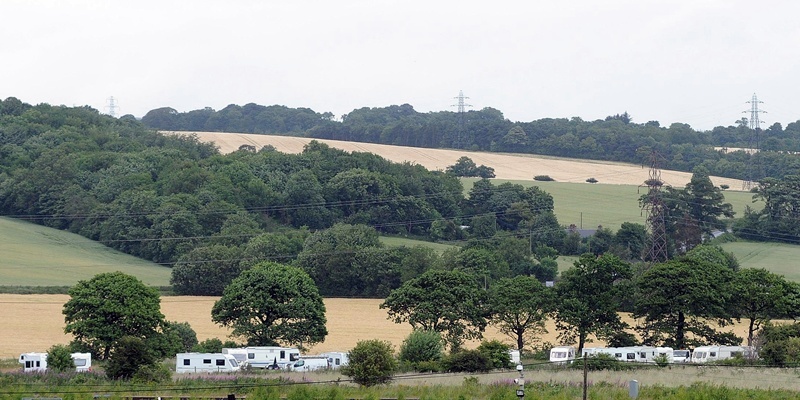 Fife Council is looking at establishing up to four temporary sites for travelling people, The Courier can reveal.
Officials are examining sites near Cairneyhill, Cardenden and Cowdenbeath and one in north-east Fife.
It follows the almost unprecedented influx of travellers in and around west Fife this summer.
Illegal encampments sprang up on industrial estates in Dalgety Bay and near Inverkeithing last month.
Companies which owned the land where they were established were forced to take court action to evict the travellers.
More than 50 caravans, many of them from Ireland, pitched up on a piece of vacant land off Ferris Way in Dalgety Bay. They were preparing for a festival near Edinburgh.
Numerous complaints were received by the police, Fife Council, Dalgety Bay and Hillend Community Council and the area's MSP Helen Eadie.
Nearby residents were left fuming at the behaviour of some of the travellers, who used parts of the site as a toilet.
Electronics firms Ingenico and Dynamic EMS, who jointly own the ground, went to Dunfermline Sheriff Court to get an interdict.
That was granted but, before they had the chance to serve it, the travellers had moved on, many of them to a site just outside the capital.
However, some of them moved on to a piece of land next to Belleknowes Industrial Estate just along the road in Inverkeithing.
Now it has emerged the council is considering establishing new stopover sites, even though it already has three permanent ones.
They would be equipped with portable toilets, water bowsers and skips for rubbish.
A report on the matter is due to go before members of the local authority's housing and communities committee.
It contains the minutes of the council's own gypsy travellers' working group, which met earlier this month.
The minutes of that meeting confirm officials have already been to look at the four sites concerned.
Further investigations are already being carried out to establish who owns the proposed site near Cowdenbeath.
Alice McGarry, chairwoman of the working group, said, "The one at Cowdenbeath is between Crossgates and the roundabout at Mossmorran, about a third of the way from Mossgreen.
"It is a big lay-by and they are looking at ownership up there. They are anxious to look at sites in council ownership, because it is cheaper to do that."
Mrs McGarry told The Courier the sites would be temporary and will be designed to cope with the summer influx of travellers.
"There will be no permanent infrastructure," she added. "They will be open during the travelling season.
"There will be an accommodation charge for the water and for rubbish collection. The difficulty is you can't force people to go there."
She acknowledged the proposal would not be popular with everyone.
"We would expect some difficulties," she said. "It is a difficult situation. The minute you mention it people say, 'I am not having it here.'
"It may well be that there is more than one site, but they may all be found to be unsuitable.
"The key thing to do is consult with people at an early stage."
The council does have three permanent sites, near Cupar, Kelty and Kirkcaldy.
"There's no reason to think temporary sites would cause a problem," she added. "All of the permanent sites are managed fine."
She refuted the suggestion the council was using taxpayers' money to provide facilities for people who choose to live on the margins of society.
"The council are saying they are not," she said. "Their lifestyle is well-established and has been going on for hundreds of years. They are a recognised minority."
National guidelines, laid down by the Scottish Government, recommended provision be made for the travellers.
"The council is simply indulging in best practice," she added. "Whether it is required in law is uncertain but it is certainly considered best practice."
The housing and communities committee will consider the working group's report on Tuesday.