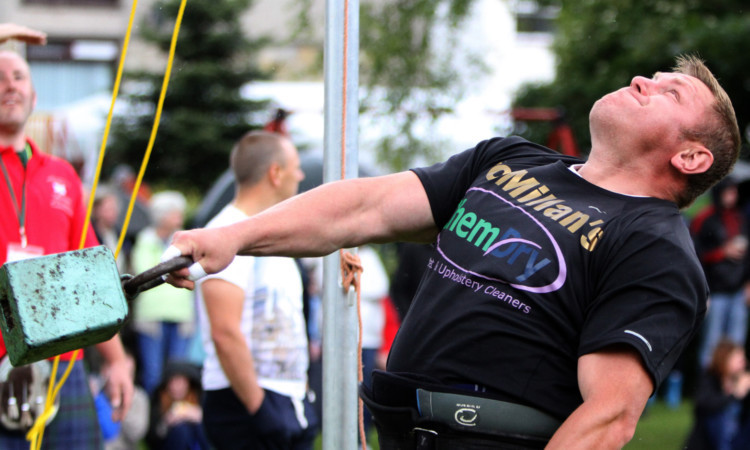 An estimated crowd of 4,000 people surrounded the Bow Butts as Ceres Highland Games celebrated its milestone 700th anniversary on Saturday.
Ceres Games is the oldest free games in Scotland and have been held every year, except for wartime, since Robert the Bruce gave the village a charter to stage the event in 1314 in recognition of their support at the Battle of Bannockburn.
The games celebrate the safe homecoming of all 19 men from Ceres who signed up for the battle.
Lord Elgin, the most senior living descendant of Robert the Bruce, gathered together 50 representatives of the famous king's family and they marched en masse with St Andrews Pipe Band as part of the opening ceremony.
A visiting pipe band from Ontario, Canada, performed at half-time, while four local boys piped a specially composed tune, entitled The Men of Ceres, to mark the historic homecoming.
Games vice president Madeleine Allen said: "It was a very special event, being our 700th anniversary, and we believe there were around 4,000 people who attended, when we usually get around 1,500 to 2,000.
"Visitors travelled from all across the globe to attend the event, with faces in the crowd from as far away as New Zealand and Florida."
According to legend, Sir Robert Keith, Great Marischal of Scotland, instructed the men of Ceres in the use of the bow prior to the Battle of Bannockburn in 1314.
This instruction is believed to have taken place on the village green now known as the Bow Butts, where the games are held.
Among the highlights of the day were track and field contests, cycling, wrestling and piping competitions.
Despite a sprinkling of heavy showers, the weather failed to dampen the spirits of the competitors all bar cyclist Steve Jackson from Glasgow.
He had the misfortune of being catapulted into the Ceres Burn, which runs alongside the track. He was brought down by fellow rider Charles Fletcher, who had come off his bike on the greasy surface in the 3,000m race.
One of the high points of the day was the throwing of the Ceres Stane, which saw Bruce Robb set a new ground record, throwing it a massive 23ft 8in.