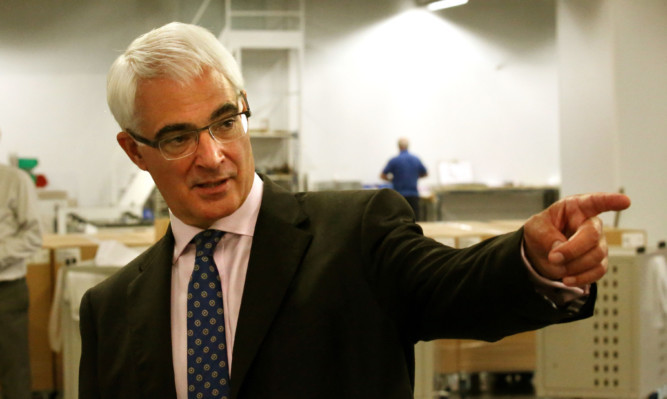 Alistair Darling has accused Alex Salmond of running out of arguments with just six weeks to go until the independence referendum.
The Better Together leader was speaking during a visit to Fife on Wednesday, where he heard the concerns of a major employer who fears breaking away from the union could sound the death knell for his company.
Claims Glenrothes-based Fife Fabrications could have to move south of the border or even close completely in the event of a yes vote provided a further boost to the Better Together campaign the day after Mr Darling's apparent victory over Alex Salmond in Tuesday's live TV debate.
The former Labour Chancellor refused to be drawn on who came out on top during the bruising exchange however, telling The Courier: "There's only one thing we need to win and that's the referendum on September 18."
He added: "These debates are important but they are only part of a long-running campaign.
"I do think we will win but we still have six weeks to go and a lot can change. We need to keep going."
Mr Darling was speaking following a tour of Fife Fabrications, which has been manufacturing precision sheet metal work in Glenrothes for 42 years and employs more than 130 people.
Managing director Archie Smith said uncertainty over an independent Scotland's currency and tax regimes could lose him customers.
"At least 70% of my business is down south and at least half of them have told me that if there is any more administration and tax they would move their custom to English companies," he said.
"If that happened, I would have to shut the place because I would no longer be able to afford the overheads.
"Even my export customers have been asking if they'll still be able to pay in sterling and I have to tell them I don't know because Alex Salmond won't answer the questions."
Mr Darling said Mr Smith's concerns were being echoed by businesspeople across Scotland.
"I'm hearing it a lot," he stated. "This company depends upon having unrestricted, cost-free access to customers south of the border.
"If Mr Smith has additional costs and doesn't know what currency he will be dealing with, he will be at a disadvantage. That's him saying that, not me."