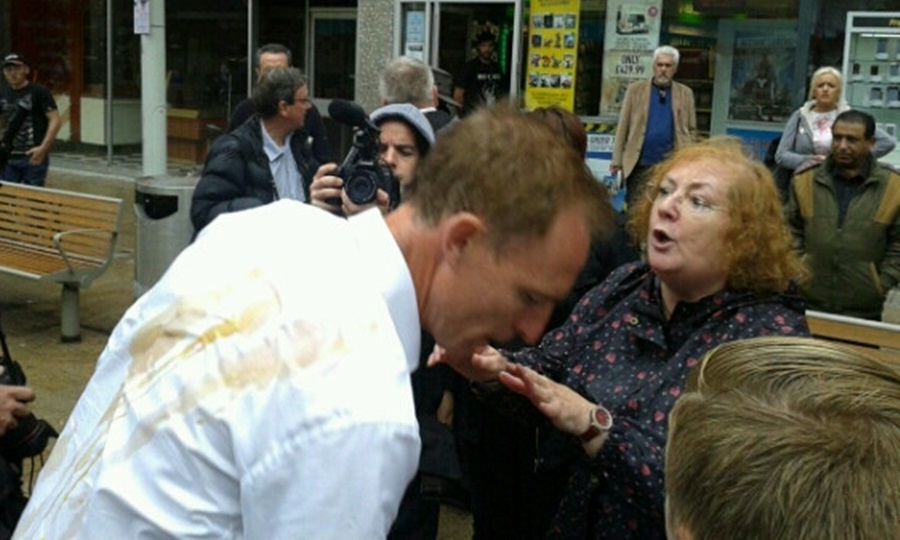 The ugly side of the referendum debate boiled over on to the streets of Kirkcaldy as Labour MP Jim Murphy was pelted with eggs while debating on the High Street.
Afterhis combative experience in Dundee on Wednesday, Mr Murphy again faced angry Yes campaigners as he continued his 100 streets tour today in Fife.Standing on his Irn Bru crate soapbox in the pouring rain outside the Mercat Centre, and surrounded by a small angry mob most of whom were carrying Yes placards Murphy was repeatedly shouteddown and sworn at as he attempted to take questions on independence.The Shadow Secretaryof State for International Development was called a "traitor" and a "Tory" in scenes similar to those faced in Dundee.
But proceedings turned darker when the EastRenfrewshire MP was pelted with eggs, with one man even running up and stuffing the contents down the back of his shirt.
Fife Council Labour leader Councillor David Ross and Glenrothes AreaCommittee chairman Councillor Altany Craik were also jostled and pushed by the mob.
Police have confirmed they are investigating the incident.
Speaking to The Courier as the crowd dispersed but still receiving insults from some passers-by Mr Murphy joked: "I'm vegetarian, I'm almost vegan and I don't even eat egg.
"It could have been worse I suppose."
But he also said he was dismayed by the attitude of a minority of Yes supporters.
He said there was a worrying anti-English sentiment being expressed by a minority.
Mr Murphy said he felt a minorityelement of the Yes campaign was getting more aggressive the closer September 18 gets.
He said: "The nearer it gets, the fact that the No campaign are ahead, the Yescampaign are behind, the aggression of a nationalist minority gets louder and gets more aggressive and it embarrasses the whole process, because the majority of nationalists and Yes voters don't behave like this.
"But in a dark corner of Scotland lives an aggressive nationalism that has been unlocked by this process."
Mr Murphy said he wanted to "do politics differently". He wanted to get on his Irn Bru crates and get round the country and have a "decent civilised conversation".
But he said: "Over the past 10 days the volume and the aggression of the nationalist campaign has just gone up and up so many notches.
"It's remarkable. I just appeal to everyone to calm down. I've got another 20 of these meetings to go. I'm not going to be put off. I'm not going to be pushed around. I'm not going to be bullied.
"Neither will the quiet patriotic majority in Scotland who are going to stand up and speak out against this sort of behaviour."
Earlier in the day Murphy visited St Andrews and Leven where he was also shouted and sworn at.
Yes Kirkcaldy coordinator MariePenman told The Courier afterwards she did not condone the throwing of eggs.
She said: "Apart from anything else, it's a waste of good food when many are living off food banks.
"Great to see active political debate in Kirkcaldy shame Jim persisted in calling the crowd a nationalist mob, when many were simply members of the public who happen to be Yes voters."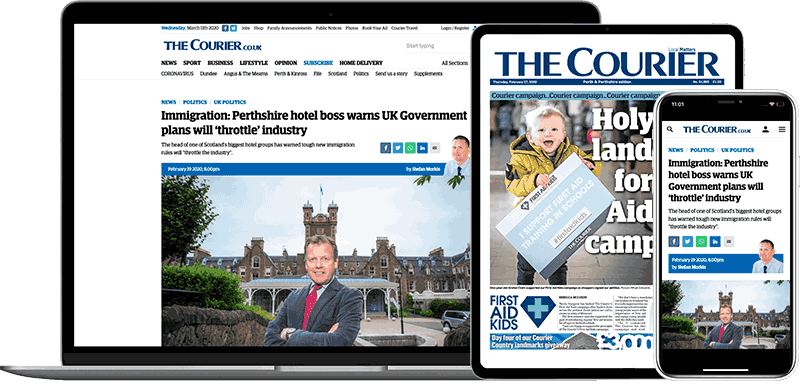 Help support quality local journalism … become a digital subscriber to The Courier
For as little as £5.99 a month you can access all of our content, including Premium articles.
Subscribe