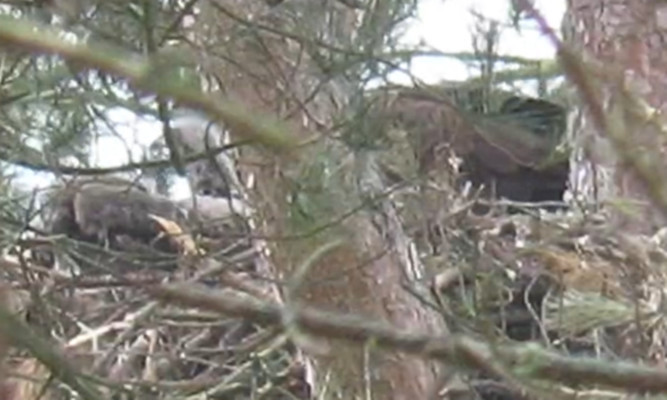 Two white-tailed eagle chicks have successfully hatched from a nest in Fife.
It is the third year running that this pair of white-tailed eagles has nested in Forestry Commission Scotland woodland in Fife, with this year bringing the arrival of two chicks for the first time.
The parents, known as Turquoise 1 and Turquoise Z after their wing tags, were released in 2009 as part of the East Scotland Sea Eagle reintroduction project, which saw 85 birds released on the east coast of Scotland between 2007 and 2012.
Rhian Evans, East Scotland Sea Eagle Officer, said: "It's really exciting that there are two chicks this year and we hope that both will fledge successfully. We have over 30 local volunteers involved in protecting and monitoring the nest, which helps keep the birds safe and provides us with an interesting insight into their lives."
The new arrivals in Fife come at an exciting time for white-tailed eagles in Scotland, as this year celebrates 40 years since the first young white-tailed eagles from Norway were released on Rum in 1975 and the 30th anniversary of the first wild chick to fledge on Mull in 1985.