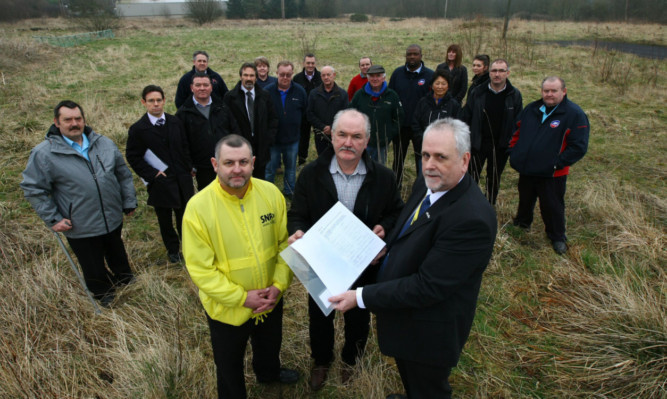 Controversial plans to locate a Gypsy Traveller camp in Glenrothes' business heartland have been scrapped.
Suitable locations were being scouted by Fife Council in both the Southfield and Whitehill areas of the town, prompting uproar from business owners and residents.
Two high-profile petitions had been in circulation, calling for the local authority to scrap its search in two of the town's largest commercial areas.
Suggestions had been made that some businesses would relocate should the facility be located in either of the industrial estates. However, Fife Council has confirmed that, following a study, no suitable sites have been identified.
David Ross, the council leader, has offered to meet companies in Southfield and Whitehill to address the issue of unauthorised encampments, a particular problem in Glenrothes over the summer.
He said: "I fully understand the significant concerns that have been put forward to the council by local businesses and I can confirm that no suitable sites have been identified in Southfield or Whitehill.
"We had a very useful meeting with businesses from Eastfield last year about how we can work together to address the problems caused by unauthorised encampments and I will be happy to have the same discussions with the businesses from Southfield and Whitehill.
"Following representations from businesses and from the Chamber of Commerce, I have undertaken to look again at the current agreed approach of trying to identify pilot seasonal sites at the periphery of industrial areas.
"An early report will be made to the executive committee to enable councillors to have this discussion."
Mr Ross added: "I still have concerns that if we are unable to identify any managed seasonal sites, we may continue to experience large-scale disruption from unauthorised encampments in the Glenrothes industrial estates, as we have in the past. That is not acceptable to me and, I am sure, not acceptable to the businesses.
"We will continue to press the Lord Advocate's office and the police to ensure appropriate enforcement action against problems caused by unauthorised encampments but it has been made clear to us that without suitable seasonal sites, there will be no change in the current approach taken by the police."
The council had announced its intention to establish a seasonal camp, which would operate between March and November, to complement three permanent sites at Kirkcaldy, Kelty and Cupar.
It follows years of problems in Glenrothes, where clearing up illegally-established camps has cost thousands of pounds.
Stuart Dunn, managing director of Air Compressor Services (ACS), says he has experienced considerable problems with illegal Traveller camps in recent years and, with Pat Kean of nearby Hedgehogs Nursery, was at the forefront of the campaign by Southfield businesses against the plans.
Welcoming the decision, he said: "It is a common sense decision on a difficult problem for Fife Council.
"It's been a difficult period and we've wasted time business-wise trying to deal with this. Hopefully we can now work together to find a better solution."
Meanwhile, Whitehill resident John Grant, who had also organised a petition, signed by homeowners and businesses, said: "The council has made the right choice for the future of Glenrothes' industrial sites."
Councillor Bill Brown, who helped to coordinate the campaigns, said he is "delighted" at the news and added: "Illegal camps will always be a problem but hopefully the council can find a suitable summertime location that will satisfy Travellers, businesses and residents."