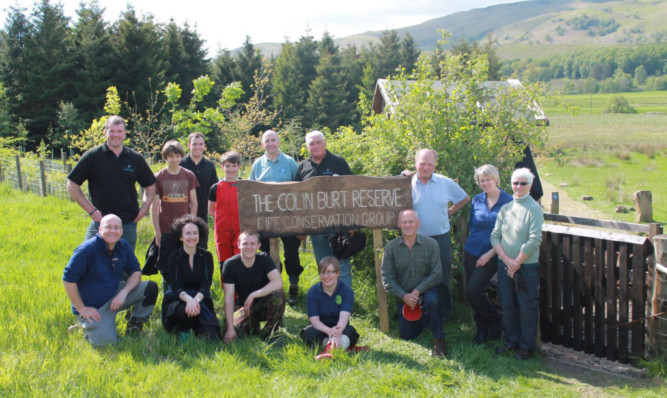 A nature reserve set up in the memory of a Fife conservation volunteer celebrates its 10th anniversary this weekend.
Relatives of Colin Burt, of Buckhaven, established the Colin Burt Reserve near Killin as a memorial to the 38-year-old who died in a motorcycle accident.
On Sunday, volunteers will be around from 10am to 4pm to show people around.
Over the past decade, volunteers have transformed the site, which lies off the A85 at the Old Mill Caf.
Caroline Burt, 49, said her late husband would have been proud of what they had achieved.
"It really is absolutely amazing," she said.
"So many people have taken ownership of it and given a lot of their time to manage it.
"There's no comparison between what it's like now and what it was like when we first purchased the land.
"It was just a bare field. Now there are trees and wildflower meadows.
"Colin would have been really proud of it."
A father of three, Mr Burt died in a road accident near St Andrews during the summer of 2004.
He had been travelling to Craigtoun Country Park to do voluntary conservation work.
Described as an exceptional volunteer who was passionate about conservation, Mr Burt was one of two Diageo employees in Scotland who embarked on a two-week environmental project in the rainforests of Australia.
The year after his death, his family formed a partnership with Fife Conservation Group, with the aim of creating a lasting legacy in his memory.
In 2006, work started at the site, which is part of Loch Lomond and Trossachs National Park.
Now 50 acres of wet grazing ground and poor-quality commercial conifer plantation has been turned into a nature reserve for the public to enjoy.
Proof of the reserve's wealth of biodiversity was found in the form of a never-before discovered fungus, Coniochaeta burtii, which was named after Mr Burt.
Mrs Burt, who works at Age Concern Glenrothes, is herself a former countryside ranger, and said the family take an active role in managing the reserve.
She encouraged people to take a look at what the reserve has to offer.
"It's on a really busy road. People pass it all the time and don't realise it's somewhere they are welcome to go into.
"It's grown so much and it really is a hidden gem."