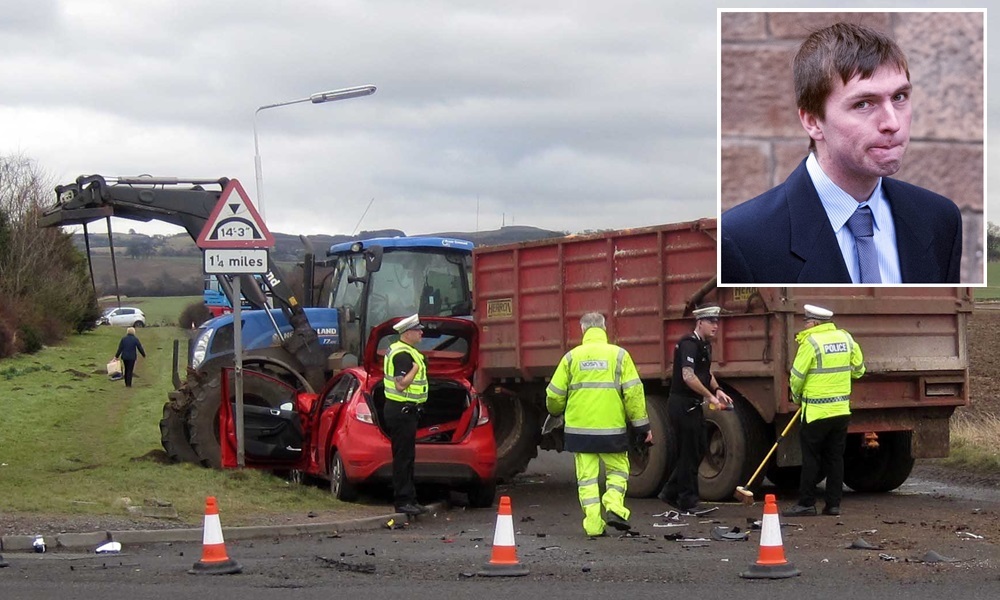 A hysterical daughter shouted "My mum, my mum" at a Fife roadside in the aftermath of a crash that claimed her mother's life.
Teenage tractor driver Russell Graham admitted causing the death of 73-year-old Catherine Armitt on the A92 near Freuchie.
The 19-year-old wept in the dock as Dundee Sheriff Court heard how he drove straight into the path of a car being driven by Mrs Armitt's daughter, Angela Packer, after failing to stop at the C20 Kettlebridge junction.
Mrs Armitt was fatally injured in the crash and died in hospital the next day after suffering fractured ribs, spine, sternum and hand as well as bruising to her heart and lungs. The cause of her death was given as chest and neck injuries sustained in the crash.
The court heard how Graham was towing an unloaded trailer when he came out of the junction without stopping or keeping a proper lookout for other vehicles.
A witness driving in the other direction saw the crash and described Graham driving "straight across the junction" without stopping.
After the crash another driver saw Mrs Packer shouting: "My mum, my mum!" He also described Graham as "shaking uncontrollably and crying."
Depute fiscal Eilidh Robertson told the court: "For vehicles approaching the junction from the C20 road, which was the accused's direction of travel, there is a mandatory stop line."
Ms Robertson said it was daylight and there was good visibility when Catherine Armitt's vehicle, being driven by her daughter, was travelling south towards Glenrothes where the pair intended to go shopping. She said: "Mrs Packer was approaching the junction on the southbound carriageway at about 40mph.
"Mrs Packer had seen the tractor drive into her path and tried to drive out of the way but was unable to avoid colliding with the tractor."
Her Fiesta collided with the front offside wheel of the tractor and both vehicles slid across the road where the tractor also hit a lamp-post.
On arrival at hospital Mrs Armitt was sent for an x-ray. She was then sent to the surgical high dependency unit and died at 6.52pm the following day.
Graham, of Raecruik Farm, Auchtermuchty, admitted causing her death by driving without due care and attention by failing to stop at the mandatory stop line on February 18.
Advocate Susan Duff apologised to Mrs Armitt's family in court on Graham's behalf. She said Graham has been undergoing counselling and will have to live with having caused the accident for the rest of his life.
Sheriff Elizabeth Drummond disqualified Graham from driving and deferred sentence until December 30.
He was released on bail.