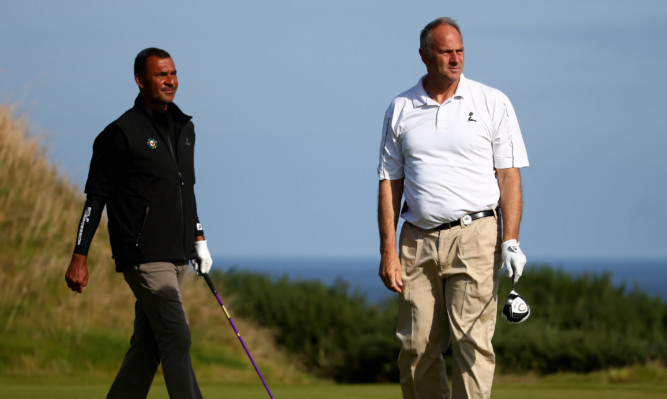 Sir Steve Redgrave is no stranger to big sporting pressures.
But as he tees up for his 15th consecutive Alfred Dunhill Links Championship, he admits that when he stood on the first tee of the Old Course at St Andrews for the first time, he was shaking.
It was October 2001 and the first year of the Alfred Dunhill Links Championship in its current format.
Having been invited to play in the celebration of links golf as one of the tournament's celebrity amateurs, the Englishman travelled up to St Andrews on the Tuesday night and admits: "I didn't know what I was letting myself in for!"
He put himself down to play in a practice round on the Wednesday the day before the start of the tournament proper.
He didn't think too much about it when he was paired to go round with 'Campbell and Campbell'.
So imagine his surprise, if not shock, when he discovered that he had in fact been paired with US golf professional Michael Campbell, who would go on to win the US Open in 2005, and Campbell's father.
"I think it was a mixture of the sense of history of the course, the backdrop of the town and the views down the fairway, but I was physically shaking as I stood on the tee,"recalled Sir Steve in an interview with The Courier ahead of this week's tournament.
"Michael Campbell said to me, 'these are the widest fairways in golf, so just stay left'. It was good advice!"
The 2001 tournament became something of a headache for organisers. As the 256 professionals and 256 amateurs went around Carnoustie, St Andrews, and Kingsbarns, Scotland's unpredictable weather proved to be a major factor with players constantly interrupted by fog, rain and gale force winds, forcing play to spill over on to the Monday.
Sir Steve laughs when he thinks back to the conditions on day one. He said:"I was standing on the tee at Carnoustie on the first morning. The course was going to be difficult it was set up very similar to what it had been during the 1999 Open. It was blowing a 60mph wind, it was raining, and it was foggy all at the same time. Even some of the locals were saying, 'mmm, we've never seen it this bad!' And I thought, what have I let myself in for here? I even had to go into the pro-shop to buy a pair of mitten gloves, it was so cold!"
Despite the drenchings, Sir Steve powered through and describes it as an "honour" to have played in the tournament every year since. He always clears his diary for the week and looks forward to his invitation dropping through the post every year.
The 53-year-old retired British rower is most famous for winning gold medals at five consecutive Olympic Games from 1984 to 2000.
Widely regarded as Britain's greatest-ever Olympian, and the most successful male rower in Olympic history, he has also won three Commonwealth Games gold medals and nine World Rowing Championships golds.
He also helped London to win the bid to host the Olympics in 2012, and since retiring from competitive sport, the Steve Redgrave Fund has made way beyond its £5 million target since launching as a charity in 2001.
But he has always had an interest in golf, playing in a few pro-ams in the years before his Dunhill experience began.
With a prize fund of US$5 million, the championship incorporates two separate competitionsan individual professional tournament for the world's leading golfers and a team event in which the professionals are paired with some of the most celebrated amateur golfers which creates a unique atmosphere.
As an amateur, with a current handicap of 14, he says it's an honour to be able to play alongside professionals under such competitive conditions. Over the years he has played alongside the likes of Andrew Coltart, Colin Montgomerie and has made the top 20 cut three times. There is also a "band of brothers" mentality amongst the amateurs, and it's nice, he said, to mix with celebrities from outside the sporting world.
He added: "Some of the pros put in a request on which amateur they want to play with. I've never known who I play with until the draw is made the day or so before, and I still don't!"
Sir Steve describes the Dunhill as an "amazing experience" and enjoys all three courseseven Carnoustie!
But St Andrews, where he received an honorary degree from the university in 2011, is always a particularly special place.
He added: "You can't take the competitive winning streak out of an athlete, but I'm looking forward to a fun, enjoyable week whilst playing the best I can."
The Alfred Dunhill Links Championship plays starts at St Andrews, Kingsbarns and Carnoustie on Thursday October 1. Admission is free for all spectators over the first three days with final day tickets on Sunday, October 4 available to purchase at the entrance gates for £20 (Seniors £15) or in advance at http://bit.ly/1RvYset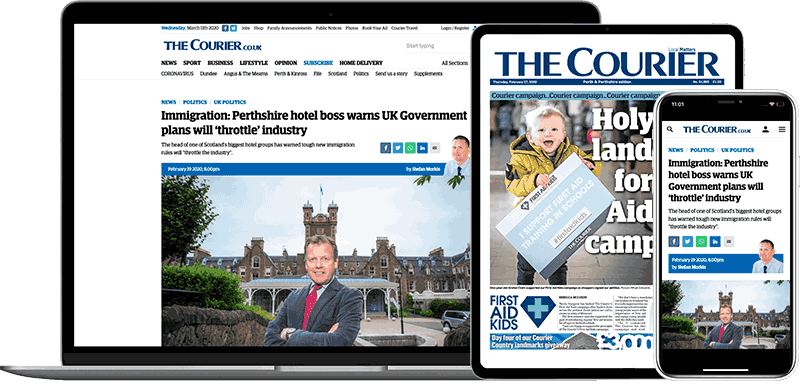 Help support quality local journalism … become a digital subscriber to The Courier
For as little as £5.99 a month you can access all of our content, including Premium articles.
Subscribe