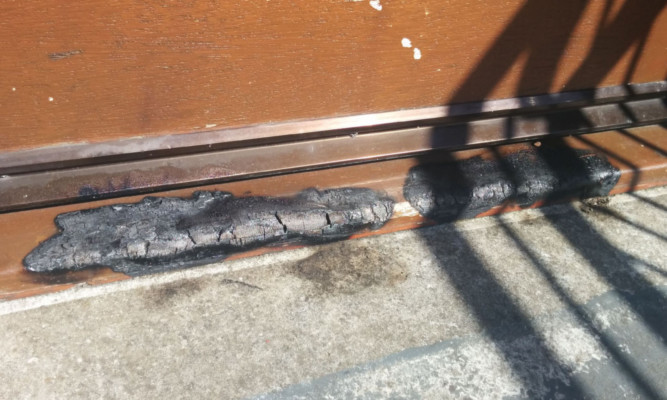 An 84-year-old widow from Hong Kong has spoken of her terror after her home was targeted in a potentially racist fire-raising attack in Kirkcaldy.
Speaking through a translator in an interview with The Courier at her home in Saunders Court, the great grandmother, who asked not to be identified, said: "I am absolutely frightened. I am scared it will happen again. I pray that whoever did this will not return."
Police are investigating after two incidents of wilful fire-raising at the sheltered housing complex, managed by Kingdom Housing Association. It is occupied by around 30 Chinese households mainly widows in their seventies and eighties.
The incidents occurred between last Thursday and Saturday, when an unknown number of suspects attempted to set fire to the door and window of two properties belonging to elderly female residents.
Residents said the fires were the culmination of a series of anti-social behaviour incidents over the last few weeks.
In a separate incident, the 84-year-old woman's front door was tied shut with a rope and she had to cut it free with a knife.
There have also been instances of stones and eggs being thrown at windows.
Police are appealing for any information regarding these incidents. Officers have been conducting high-visibility patrols in the area to provide community reassurance.
However, residents of the complex told The Courier a police investigation may be hampered as a temporary CCTV camera had recently been removed from the street.
Police Constable Mike Daglish said: "Fortunately these fires have not taken hold, and burnt out quickly.
"However, they have caused much distress to the elderly residents who have been targeted.
"We are appealing for any information regarding these incidents. Anyone who has any information is asked to contact police immediately.
A spokesman for Kirkcaldy-based ethnic minority support group Fairness Race Awareness & Equality Fife (Frae Fife) said: "Frae Fife are really worried and concerned at this attack on vulnerable members of the ethnic minority community in Kirkcaldy.
"We shall be contacting the community leaders to offer our support and assistance.
"Frae Fife shall also be contacting the local community safety agencies to prevent this type of incident occurring in the future."
Kingdom Housing Association chief executive Bill Banks said: "We have been made aware of the incidents at Saunders Court and we are treating the matter very seriously.
"We are supporting the residents with any assistance that they may require, and Kingdom Housing Association is working closely with the police who are investigating and who have recently increased high-visibility patrols in the area."
Those with information can contact Police Scotland on 101 or anonymously through Crimestoppers on 0800 555 111.