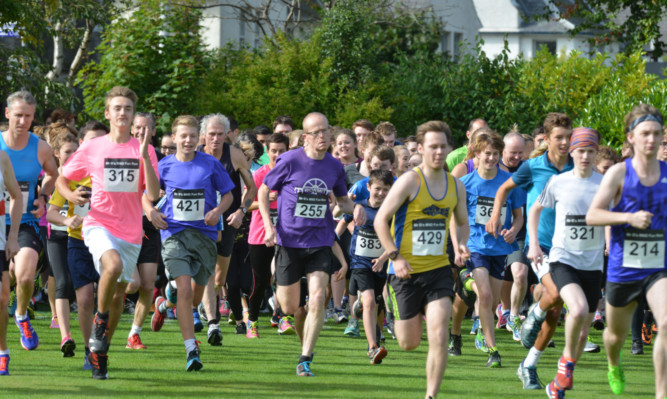 A Fife schoolgirl has raised more than £15,000 for a popular teacher diagnosed with motor neurone disease.
Brynja Duthie, 14, said she was amazed at the total after a fun run held helped boost her campaign to help Madras College teacher Donald Grewar.
Around 500 people turned up to take part in the 5km fun run held at the St Andrews University playing fields.
Proceeds will be donated to Edinburgh University's Anne Rowling Clinic, which carries out research into neurodegenerative diseases, and will also help Mr Grewar with his care and purchase of specialist equipment.
Brynja said: "It was absolutely amazing. I can't believe how many people came to the event."
She revealed that the university has offered to host the fun run as an annual event.
"It's a great way to raise money to give to charities," she added.
Brynja started fundraising when her grandad died from prostate cancer.
She said it was the support of Mr Grewar which helped her raise more than £3,800 for the cause.
"Mr Grewar loved to run before he became ill last year, so I decided the best thing to do was to show him how much I care about him and appreciate what he has done for me by organising a charity fun run to raise money for him and research into MND."
Her mum Charmaine said it had been an emotional day.
Thanks to the generosity of travel agents DP&L, Martin Pittis, the partner of Mr Grewar's daughter, was flown over from Seattle to attend the fundraiser.
"At the 11th hour, they managed to help with a much reduced rate to bring Martin back from Seattle," said Charmaine.
"He was involved in the planning and we thought it fitting he should be part of this momentous day.
"It was incredibly emotional. His daughter knew nothing about it either."
Charmaine continued: "We're around the £15,000 mark now, possibly more, but we need to tally up what we raised today.
"Donald was thrilled but overwhelmed too. So many people attended, including past pupils and past members of staff."
Photo by George McLuskie