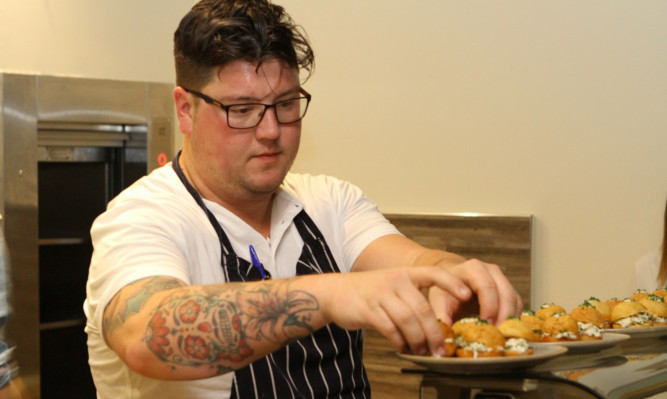 In just a few short weeks Jamie Scott will have to relinquish his title as reigning MasterChef: The Professionals champion.
The crowning of this year's winner may mark the end of one chapter in the 27-year-old Arbroath man's life, but it is also a time of new beginnings.
Jamie, formerly head chef at Rocca in St Andrews, is finalising plans for his first restaurant, The Newport.
He is spending more than £50,000 fitting out the kitchen and is determined to create a truly top-class eatery on the banks of the Tay.
When it is completed to his meticulous and demanding specifications he will operate the restaurant with his wife Kelly. While he oversees the kitchen, she will be managing the public face of the business.
Ahead of all that, however, Dundee diners are being given a tantalising glimpse of what might be on offer courtesy of a "pop-up" restaurant on the city's Perth Road.
Running for three nights a third was added due to the "staggering" demand the venture made its debut last night.
Featuring a six-course tasting menu, the promise of some of the dishes Jamie presented during Masterchef proved irresistible to local diners.
"The demand was amazing," Jamie said.
"It is a really good time for the industry in Dundee…and it is nice to have a full restaurant."
The three-night pop-up offering, which is completely sold out, is being hosted by Pacamara on Perth Road.
When asked if he is watching this year's Masterchef series, Jamie revealed: "I will have a wee look."