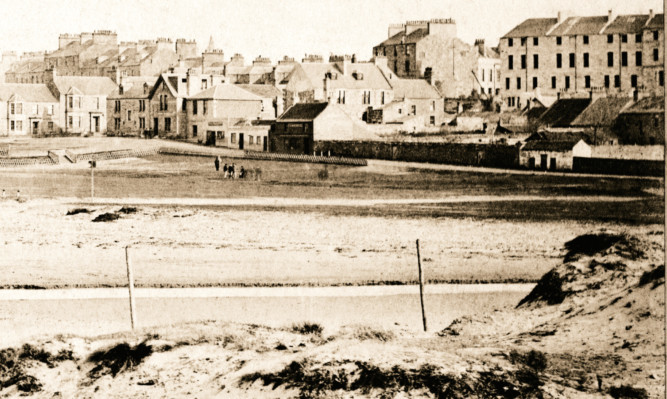 A new book by author Roger McStravick gives a fresh insight into the history of the game at the Home of Golf.
Researched for more than three years, the book, entitled St Andrews In The Footsteps of Old Tom Morris, reveals new findings about the golf history of St Andrews, Tom Morris and many others.
With biographies including Sir Hugh Lyon Playfair, George Bruce, Freddie Tait, Allan Robertson, Tommy Morris, Robert Chambers and Robert Forgan, the book takes the reader on a guided tour of the town, noting the addresses of the most influential people in the town's golfing history.
Designed by the award-winning Chic Harper, the book is set out with rich sepia images of St Andrews, the Links and noted individuals.
Including new source material and original images discovered at the St Andrews University Special Collections Department, the R&A's archives and the St Andrews Preservation Trust, the book brings to life St Andrews in the 19th Century.
Mr McStravick said: "This has taken a lot of time and study, including collating artwork. I am very excited about bringing the new pictures and findings to light, such as the house where Tom Morris lived with his parents in 1841 or his first golf shop, which he opened in 1848, or when the land for the first hole on the Old Course was truly reclaimed from the beach."
One forewords for the book is by Prince Andrew and a second is jointly penned by Angela Howe at the British Golf Museum and Peter E Crabtree.
Mr McStravick added: "There are so many people to thank for getting me over the finishing line, including the British Golf Museum, a number of historians and families of some of the great golfing families.
"This book was inspired by Dr David Malcolm and Peter E Crabtree. Their sublime book on Tom Morris will still be talked about in 100 years' time.
"It should also be said that David Joy was a great influence, too, with his support and encouragement. David probably doesn't even realise it but he is simply one of golf's most influential historians. So many writers, including Kevin Cooke's Tommy's Honour, which is currently being made into a film, are inspired by his work as Old Tom. He has much to be proud of."
The leather-and-wibalin collector's editions of St Andrews In The Footsteps of Old Tom Morris are available for pre-order now at www.thegolfbookshop.com