 A violent young man carried out a vicious attack on three middle-aged men just four days after he was released from detention.
Kieran Moran, 19, had been drunkenly celebrating his freedom with a gang of teenage friends minutes before he launched the unprovoked assaults.
One of his victims 50-year-old butcher Sean McTague suffered such serious brain injuries as a result of Moran's thuggery that he will need round-the-clock care for the rest of his life.
Witness Brian McTague, 49, told a jury that his brother Sean was now "a vegetable" with poor short-term memory and unable to walk unaided.
A jury at the High Court in Livingston was told separated Sean had met a woman who gave him her telephone number in a local pub on the evening of the attack an unusual occurrence for the "quiet and decent" dad.
He and his drinking pals, David McNaughton and John Strachan, 59, were all injured when Moran and a group of teenagers ran at them "like a pack of wolves" as they walked home in Glenrothes.
Moran's co-accused, Gavin Sommerville, 19, stunned the jury after saying in evidence that Mr McTague's family had suffered long enough.
He added: "I want the truth to come out. It was him (Kieran) that did it."
The jury took four-and-a-half hours to return unanimous verdicts finding Moran guilty of punching Mr McTague to his permanent impairment and to the danger of his life and of assaulting Mr McNaughton and Mr Strachan while acting with others.
Mr McNaughton's jaw was broken with a single punch and Mr Strachan suffered an injury to his eye socket.
Sommerville, 19, from Leslie, was acquitted of the same three charges after the jury returned majority not proven verdicts, but will be sentenced at Edinburgh next month for breaching a bail order.
Following the verdicts, advocate depute Stephen O'Rourke moved for sentence and revealed that Moran, also from Leslie, had a criminal record for violence.
He was handed an 18-month community payback order at Kirkcaldy Sheriff Court in January 2012 for repeatedly punching a man on the face, knocking him to the ground and kicking him on the face.
In May 2013 he was sentenced to 18 months' detention at Cupar Sheriff Court for assault to severe injury by punching a man in a phone box causing him to knock his head, fall to the ground and lose consciousness, then repeatedly kicking his victim on the head and body.
He got a further 105 days for a domestically-aggravated assault against his then partner, who he repeatedly pulled by the hair and repeatedly punched on the head and body to her injury.
Mr O'Rourke said: "He had been released for four days when the matter on indictment happened."
Judge Lord Glennie called for social work reports on Moran and deferred sentence on both accused until April 30.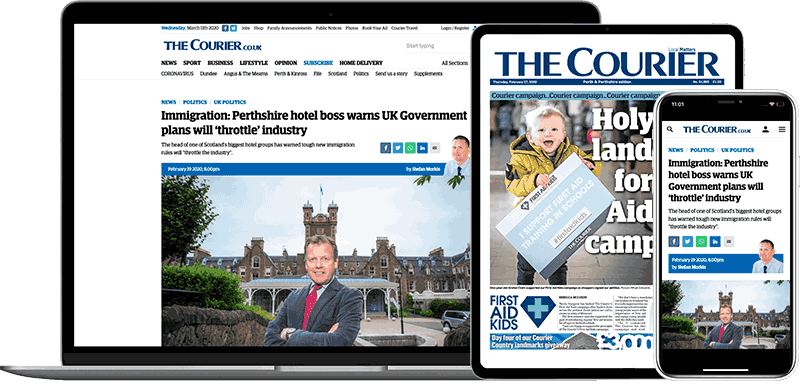 Help support quality local journalism … become a digital subscriber to The Courier
For as little as £5.99 a month you can access all of our content, including Premium articles.
Subscribe