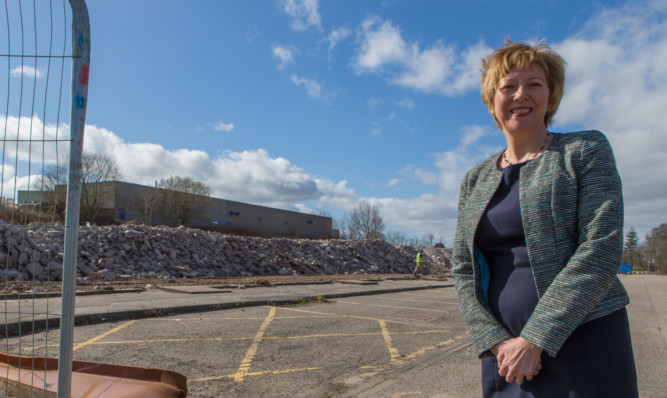 The multi-million-pound regeneration of a key Fife industrial estate has taken a step forward with the demolition of old and derelict buildings in Dalgety Bay.
This is seen as a catalyst to creating opportunities for further regeneration at Hillend and Donibristle industrial estate, and boosting economic development in the area.
The former Maxwell Buildings, situated at the estate's entrance, were derelict for many years.
Lengthy discussions between Fife Council and agents for the site owners have now been completed, allowing demolition work to go ahead.
It is part of partnership working that has led local businesses to join forces, with support from the council.
Deputy leader Lesley Laird said: "Businesses are at the heart of our communities, providing jobs and boosting the economy, and the Hillend and Donibristle industrial estate is an important employment and economic hub in the area.
"We are working hard to ensure that Fife is a great place to work and do business and we hope that the provision of more serviced land will help stimulate further investment on the site and aid regeneration of the estate into a key location for modern businesses."
Demolition work on the old Havelock buildings has also started, with the site to be cleared and placed on the market in the coming weeks.
The council purchased the former Havelock Europa building last year, putting part of it up for sale soon afterwards.
The Moss Way building has now been sold to Sign Plus Limited, a sign manufacturing company that already has premises on the estate.
Its chairman, Ken Richards, said: "We were looking to expand our business and the availability of this building proved ideal to meet our needs.
"The building, which we have renamed Lancaster House, has undergone an extensive refurbishment and not only forms an integral part of our growth strategy but also allows the company to be a part of the exciting regeneration plans for the estate."
These demolitions are the latest of a number of regeneration projects that have taken place since the establishment of the estate regeneration steering group.
The group, made up from businesses within the estate and support from Fife Council, is responsible for shaping and implementing a regeneration strategy to secure the long term future of the site.
The popular estate, attractive to businesses large and small now accommodates more than 120 businesses and 2,000 employees.
It is home to seven of the top 100 business in Fife.