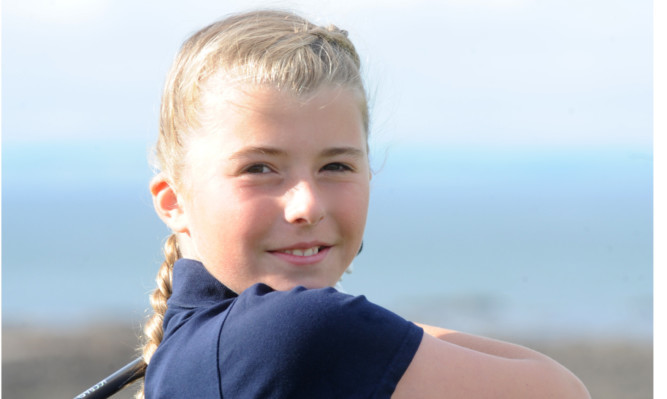 It was a famous record most thought would never be approached, but Crail's Anna McKay has come closest to matching Carly Booth's feat of being a Scottish club champion at just 11 years old.
Anna, at just 11 years and nine months, won the Crail Golfing Society Ladies championship at the weekend, just a few weeks after making a recovery from illness.
The daughter of Crail's assistant golf manager Colin McKay and wife Lisa, Anna is the second 11-year-old to win a club title after Booth, who won the Dunblane New club ladies title on her 11th birthday in 2003.
Carly went on to be a multiple winner of national and club titles before turning pro and winning the Scottish Ladies Open three years ago.
Anna, playing off a handicap of 10, won the ladies matchplay final 3 and 2, continuing a thrilling year for the youngster that saw her play with former US Open champion Graeme McDowell in the Aberdeen Asset Management Scottish Open pro-am at Gullane last month.
Anna's success is all the more remarkable given she has only been back playing for two months after suffering in the past year from Osgood-Schlatter disease, a growing pains-related condition.
Anna's elder brother Ben, 14, was also a winner on the club's Champions Day taking the Junior Matchplay Championship, which was just the latest of a series of wins for the SGU Academy player this season.
"I had to play my best golf to get to the final," said Anna. "The games were all really hard. I'm really pleased to have won and it was great that Ben won on the same day."
Anna started playing with her brother in the ClubGolf junior programme at Elie before moving on to Crail.
She's been identified as one of Scotland's top junior prospects under the tutelage of Scottish Golf regional performance coach Ian Muir and will join Ben in the Scottish Golf Academy later this year.
In 2012, Anna was runner-up in her age group in the US Kids World Championships in Pinehurst, North Carolina, the world's largest event for under-13s. She has also won the Elie Girls Open Under-12 title for the past four years and was the Fife County Girls Junior Scratch champion in 2014.
Matchplay champion and lifelong Crail member, Murray Herd, remarked on the McKay siblings success in his winner's speech.
"The 2015 finals day will go down in history for Crail Golfing Society.
"We, as club members, are all very proud of Anna and Ben and look forward to seeing them develop."
Anna was one of three youngsters who started in ClubGolf to be invited by First Minister Nicola Sturgeon to play in the Scottish Government team in the pro-am that preceded the Scottish Open at Gullane.
Anna played with Graeme McDowell, who said: "We had a really fun day at the Pro-Am at the Scottish Open.
"It is great to see the legacy from the Ryder Cup and great for the development of golf in Scotland and I wish them all the best."