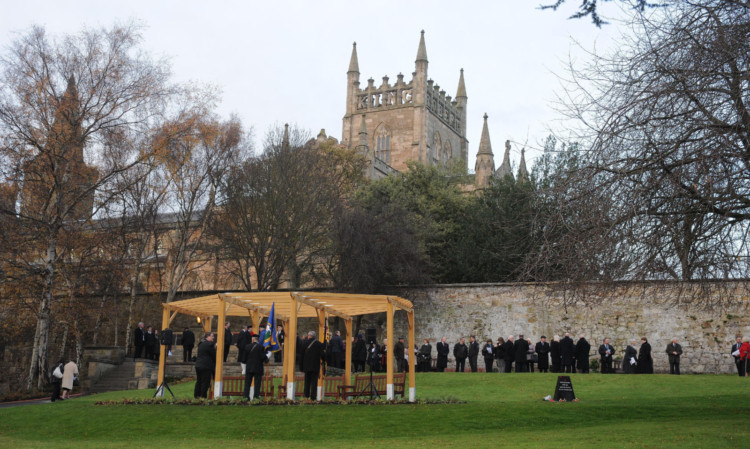 A proud Fife mother left her hospital bed to be at the opening of Fife's new Garden for Heroes.
After Black Watch Corporal Tam Mason tragically lost his life during the conflict in Afghanistan, his grieving mum Linda Mason Buchanan and sister Kelly had the idea of creating such a place, an oasis of calm in the middle of bustling Dunfermline a place of reflection where anyone could go and think of their own special hero.
With £100,000 funding from three Fife Council area committees City of Dunfermline, Cowdenbeath and south-west Fife that family's dream became reality on a bleak and frosty November afternoon.
Standing proudly beside the stone which bears the inscription "At the going down of the sun, and in the morning, we will remember them", Linda revealed that she had been determined not to miss the poignant opening ceremony in the shadow of Dunfermline Abbey.
"I was rushed into hospital with a serious infection and have been on IV antibiotics, but they knew how long I had been working on this, and how important this was to me, so I was allowed out for an hour," she said.
Making the pilgrimage was another Fife mum, Jane Duffy, who had travelled from Tayport. Like Linda, she has suffered unimaginable loss as she lost her son, Lance Corporal Liam Tasker, who was also killed in Afghanistan. His faithful dog Theo died shortly after, some say of a broken heart.
After the ceremony Jane stepped quietly forward to leave a simple cross in memory of her fallen hero and his four-legged companion.
She said that, although it was in west Fife, the garden was for all those in Fife.
"It is a lovely place, a place to remember."
Welcoming everyone, the minister of Dunfermline Abbey the Rev MaryAnn Rennie said memories of others shaped our present and our future.
She told those taking part in the service: "This will be a place for fun and laughter, for anger and sadness, and for rest and restoration."
It is not only for forces families, as Fife Provost Jim Leishman stressed it was truly a place for everyone who had lost a loved one and needed a place of quiet contemplation.
"Everyone has their own hero. My wife Mary was my hero and I sit and think about the good memories we had together."
He also paid tribute to the late Mike Rumney, who was the City of Dunfermline committee chairman until his death last summer and a man who fought to bring the garden to fruition.
Thanking all those who had helped Linda, Mr Leishman said: "I know he is not here physically with us today, but I have to say I think he is with us in the sense he will be watching over these proceedings and saying 'Good on you'."
Fife Council leader Alex Rowley thanked Black Watch veterans and the British Legion for their support.
"Too many of our young people have lost their lives in recent conflicts," he said.
"And we also have to remember we have young people from across Fife who are serving their country in far-off lands and putting their lives at risk every day while we go about out normal business."
Pictures by David Wardle