Care home apologises after claims of neglect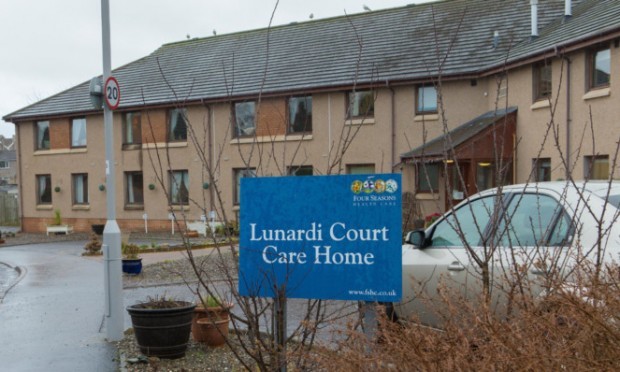 A Cupar care home has apologised following allegations that a resident was the victim of abuse and neglect.
An investigation was launched after claims the 88-year-old man was left sitting in a chair all night and suffered bruising to his shoulder.
It was also alleged he was not washed for a week, staff ignored his requests to use the toilet and kitchen staff were not informed of his dietary requirements until 11 days after he arrived.
The resident died two days after being admitted to hospital in July last year, and it was alleged he had dangerously high levels of potassium in his system.
Owners of Lunardi Court Care Home said staff disciplinary action was being considered in light of a complaint by the late resident's daughter.
The Care Inspectorate launched an investigation into the woman's claim and ordered Four Seasons Health Care to make several improvements.
A spokesperson for the watchdog said: "We upheld numerous elements of this complaint after identifying concerns about poor quality of care. We have made a series of requirements and recommendations for improvement.
"Everyone is entitled to high-quality, safe, compassionate care that meets their needs and upholds their rights.
"We are working closely with this care home on an action plan for improvement and will be inspecting again soon."
It told Four Seasons to ensure it can prove staff are competent to seek medical help quickly and to introduce robust systems to ensure dietary requirements are met.
It should also ensure it can demonstrate frequency of monitoring residents in their rooms and ensure there is sufficient up-to-date information in residents' care plans.
A spokesman for Four Seasons said: "The wellbeing of residents is our first concern and we are very sorry that the care provided to this resident last year was below the standards that we expect to provide.
"In addition to cooperating with the Care Inspectorate we have conducted our own internal investigation and it is apparent that in this instance there were some human errors and policies and procedures we have in place to support quality of care were not properly followed.
"We are currently considering an internal disciplinary process. This is how seriously we take it.
"We are implementing all of the Care Inspectorate recommendations and introducing further supervision and checks of our own to ensure that this doesn't happen again.
"While we make improvements the home's care team are being given additional support by our regional management and our care quality facilitator."