 The Edinburgh Festival Fringe could be brought back to Dunfermline next year.
It is a little known fact that Scotland's ancient capital hosted one of the eight shows performed during the first Fringe in 1947.
Fife Council area services manager Joe McGuinness said there had been a "fruitful" discussion with former Edinburgh Festival Fringe Society chief executive Kath Mainland.
And he hopes her successor will be as keen to bring Fringe events north of the Forth for the event's 70th anniversary.
Mr McGuinness said: "In 2017 there is certainly scope for doing something for the 70th anniversary of the Fringe. It's a milestone date.
"Councillor Helen Law and I went over to speak to the leader of City of Edinburgh Council, Andrew Burns, and he was very helpful and gave us a few contacts."
It led to a meeting with Ms Mainland, which was also attended by Dunfermline Delivers event manager Chris Foote.
"We had a very fruitful discussion," said Mr McGuinness.
"She was keen to do something for the anniversary and didn't rule out something happening this year."
He added: "She's now left for the Melbourne Festival, but we plan to reconnect with Edinburgh and make as much as we can of it.
"It's something we've been discussing at committee level. The Business Improvement District company Dunfermline Delivers would like to link with Edinburgh on a number of fronts, events being one of them."
The inaugural Edinburgh Festival Fringe saw the 15th Century morality play Everyman staged at Dunfermline Abbey.
Having started with eight productions, last year the Fringe hosted a staggering 3,314 shows in 313 venues across Edinburgh.
Dunfermline councillor Neale Hanvey said: "It's an aspiration we've had for a long time.
"With the Fringe venues in Edinburgh, people travel to get to them sometimes to find themselves in a wee pokey room.
"We've got some fantastic venues around the town and we could easily host a portion of the Fringe."
Dunfermline area committee discussed the matter before approving a £15,000 grant towards a business plan for boosting tourism.
Area committee chairwoman Helen Law said: "We're keen to be involved in the Fringe, which has its roots in Dunfermline.
"We want to be a key part of the Fringe, not just an ad hoc add on."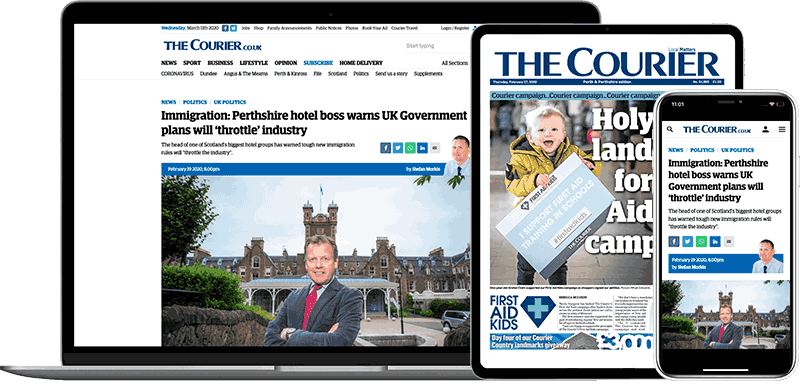 Help support quality local journalism … become a digital subscriber to The Courier
For as little as £5.99 a month you can access all of our content, including Premium articles.
Subscribe