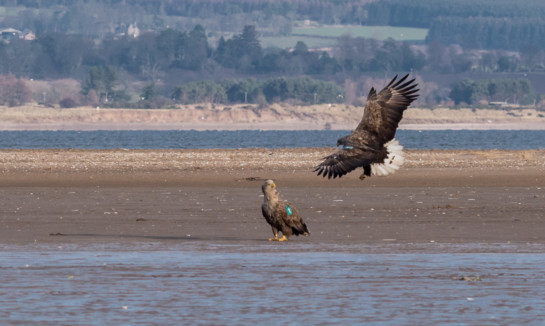 Fife's population of white-tailed sea eagles is being given a boost with the release of another fledgling.
The chick was hatched at a secret location in the kingdom and has now been ringed ready for its first flight away from the nest.
It is the latest success for East Scotland Sea Eagle project, which first reintroduced the birds of prey to Fife between 2007 and 2012.
The project is a partnership between RSPB Scotland, SNH and Forestry Commission Scotland, which manages woodland through Forestry Enterprise Scotland.
Graeme Findlay, for Forestry Enterprise Scotland's team in Tayside, said: "These magnificent birds are known to travel far and wide as they hunt for food and look for a suitable place to claim as their own.
"Now that this chick has been fitted with a GSM transmitter, its movements and its health can be monitored, giving researchers a wealth of valuable information."
Earlier in the season it was announced that the Fife nest contained twins but one of the siblings died of natural causes at around four weeks old.
It was the third successful nesting attempt for a pair of sea eagles released in Fife during 2009. The pair have fledged a single chick each year since 2013.
Rhian Evans, RSPB's east Scotland sea eagle officer, said: "Thanks to the dedication of more than 30 RSPB Scotland volunteers, the progress of this nest has been thoroughly documented throughout the season and the nest protected from disturbance.
"We are delighted that the chick has made it through to fledging despite a challenging season for many other species.
"This chick is one of five to fledge across the east of Scotland this year in what is a milestone year for white-tailed eagles the 100th Scottish pair was announced this year in Orkney, and in a year when we celebrate 40 years since the reintroduction program began."
A Sea Eagle Celebration Day will be held at the Burgh Chambers and gardens in Tayport from noon on Saturday August 22. It will include a barbecue.