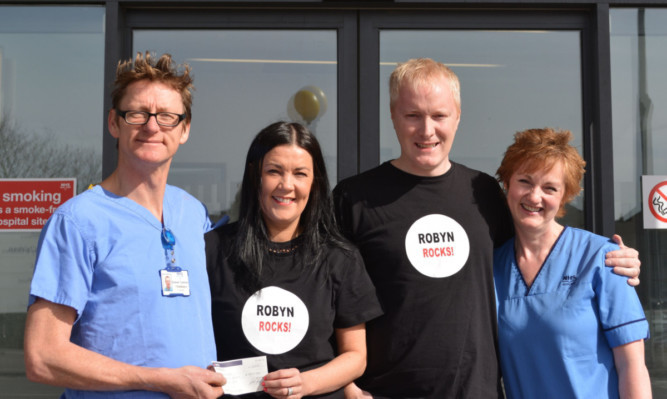 An inspirational family from Glenrothes are keeping their daughter's memory alive by helping others.
On December 7 last year Alison and Rob Askew lost their baby girl, who they named Robyn, when she was stillborn at 27 weeks and five days.
Robyn had suffered from hypoplastic left heart syndrome, a condition where the left lower pumping chamber of the heart does not develop properly and so is much smaller than usual. This meant her tiny heart was unable to pump blood around her fragile body effectively.
Robyn also had non-immune hydrops, a life-threatening problem of severe swelling in the fetus. This is most often the result of complications in the baby's development which then impairs the ability to manage fluid within the body.
Alison said: "We knew quite early on in the pregnancy that Robyn had HLHS.
"She also had non-immune hydrops which meant her chances of survival were greatly reduced, but we didn't want to give up on her and hoped she would make it."
But sadly, that was not to be.
Despite losing their much longed for baby Robyn, the Askew family felt a depth of gratitude to the Victoria Hospital team who cared for them during their pregnancy and wanted to show their appreciation.
Alison added: "Losing our daughter has been just awful but the care we received beforehand from Dr Graham Tydeman and the Fetal medicine team made us want to do something to say thank you to them from us and Robyn."
As a senior buyer for an oil and gas company Alison enjoys fashion so decided to put her skills to use buying and selling necklaces, donating the profits to the team.
"Robyn Rocks is not only helping us but it is also assisting the department to help other people in a similar position," she said.
The Askew family started the Robyn Rocks page on Facebook in February and raised £229 by the end of the month.
Then it really took off and a further £1,007.50 was raised last month.
Rob and Alison, along with two friends, will also be taking part in the Great Scottish Run in October to raise additional funds for the team.
Dr Tydeman, a consultant in obstetrics and gynaecology, said: "It's a very humbling experience to see what Alison and Rob have been able to achieve following the most difficult time imaginable."
He said the money would allow the department to provide the kind of things which wouldn't normally be available.
This includes extra facilities and support for families facing similar problems and additional teaching facilities.
Robyn Rocks can be found on Facebook.