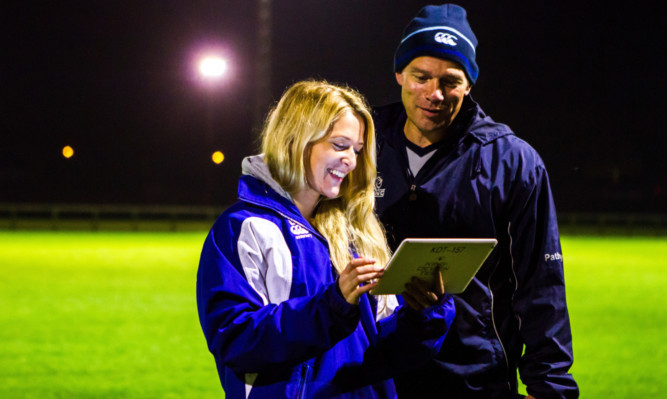 It has been described as rugby's ticking time bomb.
As scientists continue the search for hard evidence into whether brain damage and dementia can be linked to repeated head injuries suffered by top players, Scottish Rugby has backed calls by World Rugby's chief medical officer, Dr Martin Raftery, suggesting that the laws of the game may need to change to reduce concussions.
But as efforts continue to raise awareness, Cupar's Howe of Fife Rugby Club is leading from the front as the first rugby club in Europe to trial pioneering independent research.
And if successful the non-medical test could be rolled out across various sports.
Howe of Fife Rugby Club secretary Alison Murray told The Courier the system trial, which is now being used by the first-team, is based on the King-Devick Test pioneered in the USA.
It's a 'remove-from-play sideline concussion screening test' that can be administered by parents and coaches in minutes.
It's based on the concept that concussions are a complex type of brain injury that is not visible on routine scans of the brain, yet are detectable when important aspects of brain function are measured.
The King-Devick Test (K-D Test) is a two-minute test that requires an athlete to read single digit numbers displayed on a tablet or on an iPad.
After suspected head trauma, which can slow the brain, the athlete is given the test and if the time needed to complete the test is any longer than the athlete's baseline test time, the athlete should be removed from play and should be evaluated by a licensed professional.
https://youtube.com/watch?v=f2vhuwVnFPg%3Frel%3D0
Mrs Murray said it was already being trialed by the club's senior teams and, subject to parental permissions, it was hoped to roll out the trial across all of the club's 19 teams, including the children's teams, within weeks.
She said: "It's not actually a safety trial but is based on research and development in the US.
"How it came about was that Lianne Brunton, our physio, who works full time with ex-Scotland and British Lions physio Stuart Barton in the East Neuk, was doing her Masters Degree. As part of her dissertation, she worked alongside consultant neuropathologist Dr Willie Stewart, based at the Queen Elizabeth University Hospital.
Mrs Murray emphasised that the trial does not aim to replace the governing body's guidelines. The SRU produced an 'If in doubt sit it out' leaflet in association with the Scottish Government and sportscotland – the first country to publish national concussion guidelines.
Scottish guidance recommends that for concussed adults the minimum return to sport is 12 days and for under-19s it's 23 days. Dr Stewart is suggesting that players should also be sensible in the non-sporting activities they do before returning to play.
With the sport more popular than ever following the Rugby World Club, the debate is certainly a topical one.
The Six Nations threw up a number of high profile concussion cases earlier this year.
And former British Lion and Scotland international John Beattie has been involved in a high profile study to examine whether his rugby playing days may have caused long-term damage to his brain.
The problem isn't so much one-off blows, but long-term damage caused by repeated concussions over many years.
Studies of boxers and American footballers have shown that these can lead to a degenerative brain disease called Chronic Traumatic Encephalopathy (CTE).
Studies in those sports have drawn a link between concussions and depression, memory loss, and poorer verbal fluency diagnosed in later life
As a high-impact collision sport, injuries are to be expected and most occur during contact or collision.
One problem in the UK is there's no consistent method of recording rugby injuries, but with children and amateur club players amongst those affected, there is a feeling that parents should at least be able to make informed decisions about the safety of the sport.
As a journalist from the New York Times visited Cupar to find out more about the trial, Mrs Murray said the "main thing and the exciting thing" was that the whole club is taking part across all age ranges.
She added: "It's a case of running with it and seeing where it goes. If successful, the test could be used in various sports from ballet dancing to football.
"My own instinct from the point of view of a parent is that whilst we don't want to spoil peoples' rugby, most parents would be supportive of something that improves safety."
A statement for Scottish Rugby said: "Scottish Rugby is passionate about player welfare and we support any initiative that may assist in enhancing participants well-being.
"This is independent research which may well aid the diagnosis and management of concussion, particularly if it builds on Scottish Rugby's philosophy, which is centred on the health of the player and raising the awareness of concussion as a serious condition, which can occur both in sport and life generally.
"We believe there should also always be an experienced medical professional to make assessments on the condition of any player and our mantra on concussion remains straight-forward 'if in doubt, sit them out'.