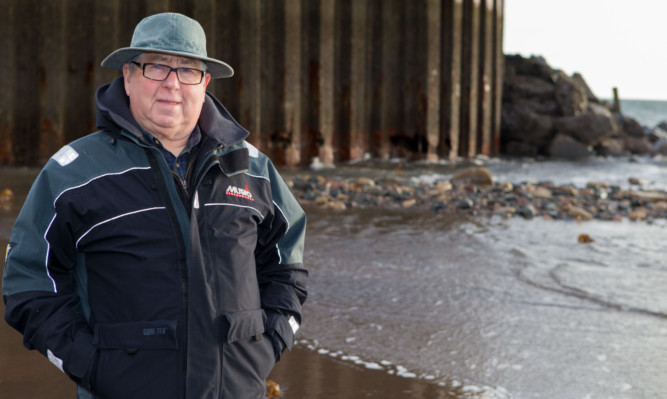 A group of Fife sailors are riding the crest of a wave after successfully campaigning for repairs to be made to a seawall.
Members of Dysart Sailing Club had feared the town's pier could crumble into the sea after cracks appeared in the structure.
However, Fife Council has confirmed £25,000 of repairs will be carried out at the historic harbour in a bid to protect it from the punishing waves of the Forth.
Former club commodore Billy Shields told The Courier that news of the imminent repairs was hugely welcome.
"They are going to insert metal pylons in the seawall," he said.
"When they are in place they will then pour in concrete.
"I believe they are also going to update the rock armour to help protect it more.
"It is great news for the club and the work should be carried out this year."
The club contacted The Courier in November 2014 to highlight its concerns about cracks appearing in the seawall surrounding the harbour.
It followed the ditching of a £6.5 million Fife Council-led reconstruction project at the onset of the recession, which would have transformed the small port and safeguarded its protective structures.
With cracks appearing in the pier and the waves of the Forth pounding the seawall relentlessly, there were serious concerns over the future of the club and the historic harbour.
However, Fife Council appears to have listened to the club's concerns, with Derek Crowe, the local authority's senior manager for engineering, saying: "We are pleased that £25,000 worth of essential repairs to stabilise and maintain Dysart Pier will start on March 7.
"This will involve repositioning the seaward-facing rock armour protection in front of the pier, that helps to break the power of the waves, and concrete infilling of the damaged sheet piling on the outside face of the harbour wall.
"This funding is part of Fife Council's ongoing harbours maintenance programme and will help retain the integrity of the historic pier."
Home to a lucrative whaling industry in the 1800s, Dysart harbour was once a hub for international trade, with ships regularly travelling to Scandinavia and the Netherlands from the port.
Although its days as a working docks are long gone, it remains popular with pleasure sailors, tourists and locals and last year was a filming location for the hugely popular television show Outlander.