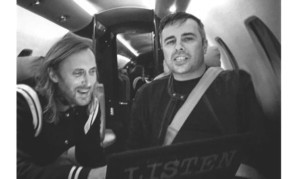 One of the most influential names in dance music has died at the age of 46.
Superstar DJ David Guetta led the tributes to his Scottish production manager Alan Green, who died over the weekend after a long battle with epilepsy.
Green, of St Andrews, who was married to Lainie and had a nine-year-old son Ewan, was a long-time supporter of dance music throughout his career having worked at the likes of the Tunnel in Glasgow and legendary Liverpool nightclub Cream.
Guetta broke the news on social media and sent his sympathy to Green's family and friends.
He said: "Alan, I just can't believe you are gone, my friend. Thank you for all you did for me.
"I lost my production manager and the house community lost a true music lover.
"I'm hurting and sending love to Lainie, friends and family."
After working at the Tunnel and DF Concerts in Glasgow, Green's work saw him heading up production at Cream for seven years, working at Creamfields, The Warehouse Project and Liverpool Sound City, and touring with Carl Cox and Sasha.
Most recently, though, he was best known for helping Guetta with his sell-out shows all over the world.
T in the Park boss Geoff Ellis said he was "shocked and saddened" by the tragic news.
He added: "Alan was a good guy. I first met him many years ago when I moved to Glasgow to take on King Tut's Wah Wah Hut.
"Alan became a bar manager at Tut's and we worked closely together on many evenings before he left to work at the Tunnel, Cream and then as a production manager, most notably with David Guetta for several years.
"I met his beautiful wife for the first time this year at T in the Park and they looked so happy.
"He adored his son so much too and shared many posts of their fun times together."
News of Green's death brought an outpouring of grief across social media yesterday.
Tim Deluxe called Green "a real gentleman who looked after many DJs through the years", while Sister Bliss, from dance group Faithless, said: "Sad to hear the awful news about Alan Green such a lovely guy. RIP"
Jon Carter tweeted: "The saddest news yesterday the unexpected and immediate loss of a very very good man means I am never wasting another minute."