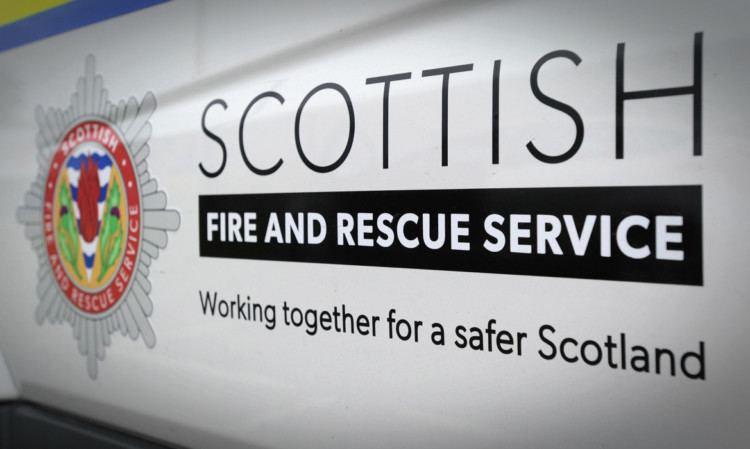 An elderly woman has died after fire ripped through her Fife home.
It is understood Catherine Walkingshaw, who was in her 80s, became trapped as the blaze spread through the Cellardyke cottage she shared with her husband, Archie.
Mr Walkingshaw was treated for smoke inhalation by ambulance staff at the scene and is believed to be staying with his son in the wake of the tragedy.
The family were too upset to speak about what had happened.
When contacted by The Courier, a relative said: "Everything's really raw just now."
More than 35 firefighters were involved in tackling the flames after the alarm was raised at around 6.30am on Saturday.
Fire investigators and police have been examining the gutted property in a bid to determine what had sparked the fire.
Neighbour Greg Ireland, who owns Kilrenny Caravan Park, described how he found a frantic Mr Walkingshaw shouting for help.
He said: "I heard a bang and thought a bin had blown over. I looked out of the front window and I saw what I thought was smoke going past the window.
"I ran downstairs. I could see flames belching out of the kitchen window."
Mr Ireland ran out in his bare feet and found Mr Walkingshaw in the porch of the burning house next door.
"Archie was in the porch shouting that Cathy was trapped in the bedroom," he said.
The fire had spread so quickly that the living room was already filled with thick smoke and it was too dangerous for the men to enter the building.
Fire appliances from Anstruther, St Monans and St Andrews were initially sent to the scene but due to the severity of the fire, additional resources from Cupar were immediately requested by the incident commander in attendance.
When firefighters arrived, the blaze was already well established. Crews found Mrs Walkingshaw's body inside.
The couple had lived at the cottage for many years.
A Scottish Fire and Rescue Service spokesman said: "The tragic loss of life must always bring home the importance of working together to prevent fires and raise awareness of how to be safer from the risk of fire in the home.
"If you or someone you know may be at risk from fire, please get in touch and arrange a free home fire safety visit with local firefighters by calling 0800 0731 999, text 'check' to 61611 or visit www.firescotland.gov.uk."