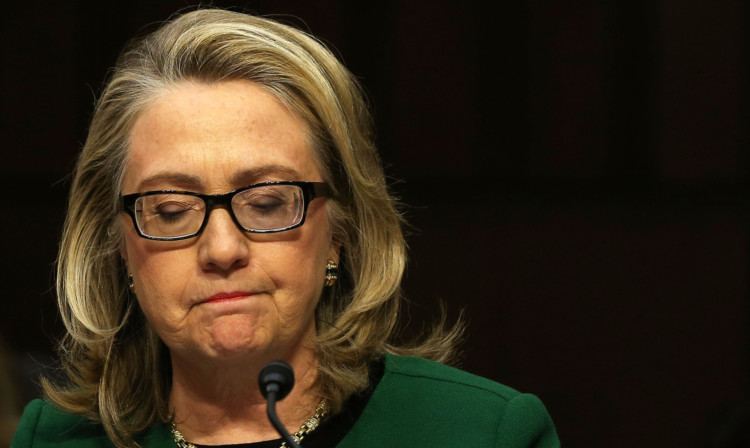 St Andrews University says it will not to be cowed by a hate campaign aimed at its principal.
Anti-abortion campaigners have targeted Dr Louise Richardson with angry emails over the decision to grant an honorary degree to former US secretary of state and first lady Hillary Clinton.
One extreme missive states theceremony will be akin to honouring AdolfHitler for ridding Germany of Jews and Mao Tse Tung for turning China's fields intofactories and killing millions.
The "intimidating and intolerant"comments, which also target Mrs Clinton's husband, former US president Bill, are among messages pro-life campaigners have sent to Dr Richardson over the past week.
The menacing emails have arrived after the London-based Society for theProtection of Unborn Children (SPUC) launched a protest against the St Andrews award. The group encouraged backers to directly email the university principal.
The SPUC believe St AndrewsUniversity should not be honouring Mrs Clinton for her record on human rights because, they say, Mrs Clinton's"promotion of abortion" is contrary to"education, human rights, democracy, civil society and promoting opportunities for females around the world".
They claim it flies in the face of "working to make the world a better place, inspiring others, speaking out for the voiceless".
Mrs Clinton has made it clear over the years that she is not pro-abortion butpro-choice.
The university announced last week that Mrs Clinton will address academics and students before being given an honorary degree.The visit on September 13 and 14 comes as the university continues to mark its 600th anniversary.
Mrs Clinton will be honoured for her efforts in championing the causes ofeducation, human rights, democracy, civil society and promoting opportunities for females around the world.
In one email to Dr Richardson, seen by The Courier and sent as a result of the SPUC campaign, Professor AP O'Beachain said: "When history is written you will see that giving a degree to Mrs Clinton will be like honouring Adolf Hitler for riddingGermany of Jews and Mao Tse Tung for turning China's fields into factories and killing millions."
In another email sent directly to theprincipal, American pro-lifer JoDermody said: "I would say you are fools forhaving anyone who has such a hard core leftist agenda speak at your college. This woman has no conscience."
Another pro-lifer, mother-of-eight Went Walker, 63, of Luton, who contacted The Courier, said she thought theuniversity award was "mind boggling" and"abhorrent" and accused the university of "condoning the murder of children".
Newcastle-based Brendan Dawson, 68, added: "I believe it is intrinsically evil to destroy life in the womb. For socialconvenience it happens so often. It's atravesty of human justice that this woman is being offered a humanitarian award."
A spokesman for St Andrews Universitysaid: "We've had an unprecedented response from thousands of people who want to attend or witness our 600thanniversary graduation ceremony where Secretary Clinton, the Right Reverend Dr Rowan Williams, ProfessorSir Tim-Berners Lee and ProfessorJudith Butler are among 18 prominent intellectuals who will be awarded honorary degrees.
"As a university, we stand for freedom of thought, freedom of expression and a willingness to listen to and learn from the views of all. It's in our DNA. By the same measure, we are intrinsically immune to intimidation and intolerance."'Pro-choice, not pro-abortion'The Society for the Protection of Unborn Children describes HillaryClinton as "one ofthe world's mostprominent pro-abortion public figures, citing a "100% pro-abortion vote record" as a senator.
Defenders of Clinton say she is not so much pro-abortion, more pro-life.
Clinton has been described as a supporter of the legal right of women to end their pregnancies by abortion.
She has been quoted as believing that theacceptance andavailability of birthcontrol and sexeducation will reduce unwanted pregnancies and the number of abortions.
In a speech in 2000, she said: "I have met thousands and thousands of pro-choice men and women.I have never met anyone who is pro-abortion.
"Being pro-choice is not being pro-abortion.Being pro-choice is trusting the individualto make the rightdecision for herselfand her family, andnot entrusting thatdecision to anyonewearing the authority ofgovernment in any regard."
In a speech on January 24 2005 to the New York State Family Planning Providers, Senator Clinton said: "There is no reason why government cannot do more to educate and inform and provide assistance
"I believe we can all recognise that abortion in many ways represents a sad, even tragic choice to many, many women."
She praised the role of moral values in preventing unwanted pregnancies while supportingcontinued research into the most effective means ofpreventing these pregnancies, adding: "Research shows that the primary reason that teenage girls abstain is because of their religious and moral values.
"We should embrace this and support programmes that reinforce the idea that abstinence at a young age is not just the smart thing to do, it is the right thing to do… I don't think this debate should be about ideology, it should be about facts and evidence."
The Courier attempted to contact Clinton through her office but received no reply.