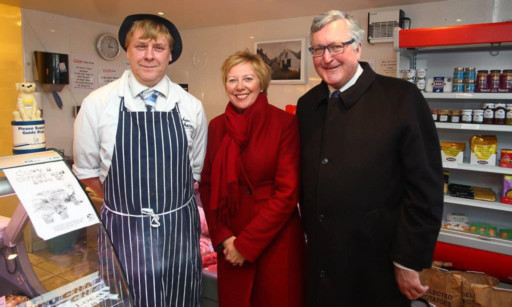 Fergus Ewing visited Leuchars this week to tell business owners everything possible is being done to support them as the army prepares to move to the village's former RAF base.
Fife Council's executive spokesperson for economy and planning, councillor Lesley Laird, and the business, energy and tourism minister, met traders in the town.
The minister had asked to visit the area after the issue of support for businesses in the town during the transition period was raised in parliament.
Mrs Laird said: "It's extremely encouraging to see cross-party support for the concerns of the business community, as there has clearly been a loss of trade during the transition period.
"I have written again to (defence secretary) Michael Fallon and would urge him to look again at the situation it has created for the business community in Leuchars and consider some form of extra support for local traders."
Mr Ewing said: "I am encouraged by the proactive work being undertaken by Fife Council to mitigate against the effects that the MOD's decision is having on the local Leuchars economy and communities in the area.
"I know that Scottish Enterprise recognises the impact on local businesses."