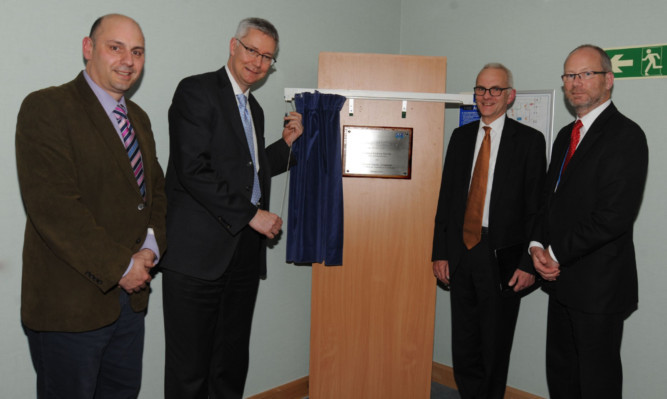 NHS Fife has further enhanced its reputation as a centre of excellence for clinical research by opening a new facility at the Victoria Hospital, Kirkcaldy, according to Scotland's chief scientist for health, Professor Andrew Morris.
The clinical research facility was formally opened by Professor Morris and dean of the medical school at St Andrews University, Professor David Crossman.
NHS Fife is now the seventh health board to open a dedicated on-site clinical research unit and follows the opening of the research and development department at the Queen Margaret Hospital, Dunfermline, last summer.
Professor Morris said: "I was delighted to be involved in officially opening this new clinical research facility at the Victoria Hospital and I am sure that it will be both a fantastic asset for patients and provide opportunities for collaboration across Scotland, and beyond.
"Research plays an important role in improving health and healthcare and Fife is swiftly establishing a reputation as a Scottish centre of excellence in this field.
"Indeed, following the opening of the new R&D facility at Queen Margaret Hospital, Dunfermline, last year, this is the second time I have had the pleasure of opening a research facility here.
"NHS Fife clearly has a commitment to clinical research and the region will no doubt play a key role in improving both patient care and economic growth in Scotland."
Research and development manager, Dr Amanda Wood, said: "This new facility is yet another step forward for clinical research in Fife and will play a key role in improving treatments, delivering significant benefits for patients across the region in years to come.
The interim chief executive of NHS Fife, Dr Brian Montgomery, said: "This new facility will provide significant opportunities for scientists and biotechnology companies.
"Importantly, this facility further enhances NHS Fife's growing reputation as a centre of research and innovation excellence and in the recruitment and retention of high-quality clinical research staff."