 A Lochgelly man has been jailed for twice butting a police officer who had been called to his home.
Michael Lowe, 56, of Drummond Square, admitted that on December 21 last year at a house in Whyte Street, Lochgelly, he resisted, obstructed or hindered police constables Adrian Harmes and Kelly McCormack in the execution of their duty, struggled violently, flailed his arms and legs and uttered threats of violence.
He also admitted assaulting PC Harmes by repeatedly butting him on the head.
The court heard the incident occurred at the house where Lowe was living with his partner at the time.
Depute fiscal Claire Millar said police had been called there in connection with a separate matter.
When they were talking to the householder, they heard Lowe shout from upstairs: "Who called the police? Am I getting detained or arrested?"
Lowe then came downstairs, pushing his way past the officers to get into the living room. He tried to pick up a telephone but was told he was going to be detained.
Lowe became aggressive, tensed himself to prevent the application of handcuffs and began to struggle violently, Ms Millar added.
He said he was going to "stick the head" in the female officer and then twice butted her colleague on the side of the head.
Lowe later told police he had felt "edgy" after waking up to hear strange voices in the house and did not know they were police officers.
Defence solicitor Jonathan Matheson-Dear said his client now accepted that he knew they were police officers.
However, he said the Lowe had "very little recollection" of the incident, having earlier been drinking beer, whisky and rum.
He was not happy about the police being there and "felt it was an intrusion". The solicitor conceded his client has a "pretty appalling record".
Sheriff Charles Macnair jailed Lowe for 162 days.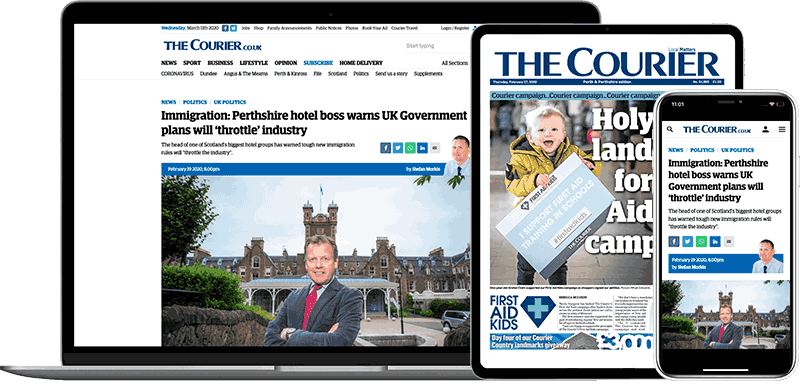 Help support quality local journalism … become a digital subscriber to The Courier
For as little as £5.99 a month you can access all of our content, including Premium articles.
Subscribe