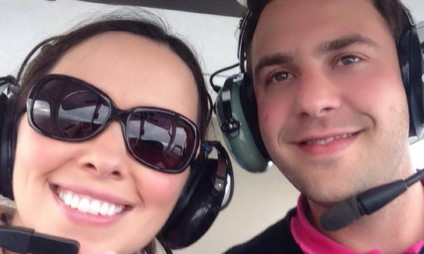 An investigation into the cause of a plane crash that killed a young Newport couple could take months after it emerged there was no black box on their aircraft.
GP Margaret Ann Rous and husband David were flying from Dundee to spend the weekend with family on the Isle of Tiree when their plane came down south of Oban.
Air crash experts are trying to find the cause of the crash but there are fears the investigation could now drag on.
Tayside Aviation chief Jim Watt has sought to reassure devastated family members that the Air Accidents Investigation Branch (AAIB) will find the answers they need.
He said: "There are a wide range of things the AAIB can use to determine what has happened.
"It is a matter of piecing everything together. The plane would have had GPS on board and they were also tracked on radar.
"They will be able to tell a lot from that and the wreckage as well."
Mr Watt, managing director of Tayside Aviation, added that he did not think any safety changes needed to be made in light of the accident.
"A light aircraft wouldn't be a light aircraft if you loaded heavy equipment such as a black box into it," he said.
"We need to remember that this is a very rare occurrence. It is important the AAIB are given the time they need to investigate before we jump to any conclusions."
A major search and rescue operation was launched when contact with Mr Rous' PA28 Piper Cherokee light aircraft was lost on Saturday April 4.
On Friday, the AAIB removed the wreckage from the crash site to their headquarters for examination.
A spokeswoman for the AAIB said: "The wreckage has been recovered and will be taken back to Farnborough. The AAIB is investigating and will report back in due course."
A tracked machine for travelling over difficult terrain was taken to the scene. The larger parts of the wreckage were lifted off the mountain by a helicopter.
John Peden from Oban Mountain Rescue, who discovered the crash site with four colleagues after a major search operation, described the wreckage as "extremely tangled".
Detective Chief Inspector Bob Frew, from the major investigations team, is leading the police inquiry.
He said: "Our family liaison officers are working closely with both families involved and will continue to support them throughout this difficult time."