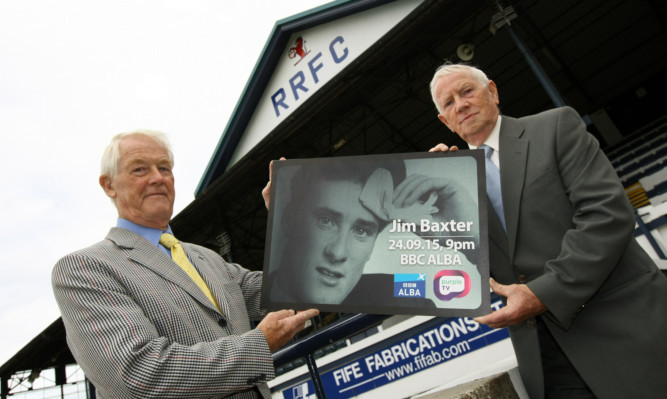 The life and times of one of Fife's greatest footballers is celebrated in a new documentary.
Two of Jim Baxter's former Raith Rovers teammates were at Stark's Park ahead of the broadcast of a film chronicling the legendary winger's life.
Simply titled "Jim Baxter", the portrait is to be shown on BBC Alba on Thursday night in what is described by its makers as an "intimate" account of one of the nation's greatest sportsmen.
Ahead of the broadcast, two men who played behind Baxter during his time in Kirkcaldy, goalkeeper Jim Thorburn and defender Denis Mochan, hailed a special talent.
"Back then we had our senior players and our junior players," said Mr Mochan.
"I would say that he learned his skills under those senior players and by the time he left here and went to Ibrox he was already a journeyman.
"He wasn't a great tackler but if you gave him the ball he would just float into space with it and that would give him time."
"If we were under pressure then I would just throw the ball to Baxter," added Mr Thorburn.
"He would take it for a walk and that would always give us a break."
Born in Hill of Beath in 1939, Baxter was a miner before he made his Raith debut in 1957, making 62 appearances for the Kirkcaldy club before leaving for Rangers three years later for what was a Scottish record fee of £17,500.
After five years at Ibrox, his career would later see him enjoy spells at both Sunderland and Nottingham Forest, as well as a short stint playing in Canada.
He retired in 1970 after a final season back at Rangers.
Despite a highly successful club career, the winger is probably best known for his showboating at Wembley against world champions England in 1967, using his ball juggling skills to taunt the Auld Enemy.
Such was his talent, both George Best and Ferenc Puskas, regarded as two of the greatest players in football history, hailed Baxter's ability.
But despite his natural talent, over indulgence off the field meant that his career was effectively over by the age of 30.
He died of pancreatic cancer in 2001, age 61, and is immortalised in a statue in his home town.
Director of "Jim Baxter", Margot McCuaig, added: "He was a working class hero and his story is an integral element of Scottish popular life.
"His story is both inspiring and tragic and I am sure it will have an impact on the audience."