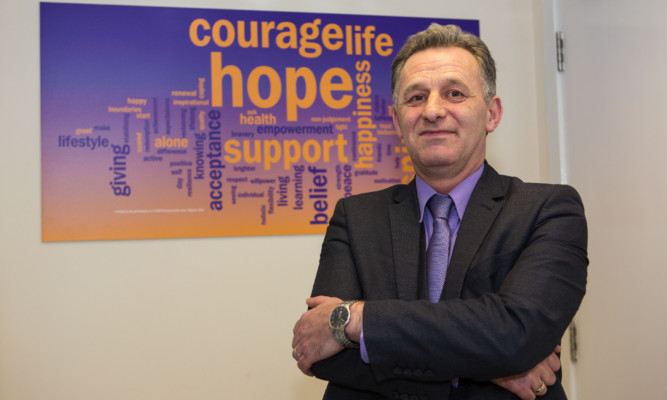 He was one of Fife's most successful businessmen but for 20 years Tony Marini hid a secret double life, blowing millions on cocaine and casinos.
At the height of the 1980s, the St Andrews entrepreneur was snorting £3,000 of powder every week, and spending double that on gambling, as he fell into the company of some of Scotland's most notorious crime figures.
From his first time sitting at a Stakis Casino table in Dundee at the age of 18, Tony was to set out on a path that would make him a multi-millionaire, only to attempt suicide when addiction became too much to bear.
Now aged 50, the restaurateur has spoken exclusively to The Courier about the demons of his past and how returning to live with his mother turned his fortunes around.
"My father was a gambler and an alcoholic so I grew up with that in my life," said the former Greyfriars Primary and Madras College pupil.
"I was used to playing cards with my gran from an early age and I have always felt compulsive about gambling I was compulsive about just about everything apart from my schooling.
"We grew up with not a lot of money so I was compulsive about wanting it. My first time at the casino I just sat there thinking, 'this is home, this is for me'."
Tony's drug habit started at the age of 22 at a time when cocaine was rife on the Scottish party scene.
Over the next two decades he built a portfolio of restaurant businesses across Fife and Edinburgh, including Route 66 in St Andrews, MCM in Cupar and the prestigious Est Est Est in the capital's George Street, where he reportedly once turned away Mick Jagger.
On the surface a respected businessman working 80-90 hours a week, Tony was racking up huge drug and gambling debts behind his family's backs and mixing with hardened criminals.
With a good house, a wife and two children, he appeared to have it all. However, life was running at "100 miles an hour" and Tony would "go overboard" with everything he did, including buying a limousine to impress his children when picking them up from school.
"I was buying their affection because deep down, I knew that emotionally I wasn't there for them," he said.
Tony hit rock bottom prior to his 40th birthday, when he attempted to take his own life.
"I used to look at myself in the mirror and was just disgusted with what I saw," he said. "I went away to the woods and some farmer found me. Minutes later and I would have been dead."
After 10 days in intensive care Tony recovered and, in an attempt to escape addiction, withdrew £20,000 from his bank account and boarded a plane to Bangkok.
Travelling through Thailand and Cambodia, he met a group of Buddhist monks and spent the rest of his trip giving away money to the poor in an attempt to cleanse his soul.
However, the trip ended in failure. "I flew back and the first day, I phoned up a dealer and got some coke," he said.
"The next day I decided something had to change so I moved in with my mum. I threw my phone away. I knew I was just killing myself.
"Every night my mother would tell me about her life, what it had been like living with my father. At that point I became very honest and told her my true life story."
Over three months Tony took part in 12-step meetings in St Andrews and then in Edinburgh, where his estranged wife and two children were living.
"I never really saw any of my children growing up; I was physically there but I certainly wasn't there in mind," he said.
"My wife saw a difference; she saw me change and said 'let's give this one last chance'."
Now, 10 years on from his recovery, Tony leads a life of helping others.
In addition to working with Victim Support he has visited prisons to give talks and hold one-to-one sessions with prisoners. He also helped at LEAP (Lothian and Edinburgh Abstinence Programme).
Tony gained a place on a higher national diploma course in counselling on the basis of his life experience, then did a postgraduate diploma in person-centred counselling at Strathclyde University.
A 15-month placement at Castle Craig rehabilitation hospital in the Borders saw him learn new skills and embark on his new career. He qualified in June 2014 and was employed full-time by Castle Craig by November.
Tony said people with gambling and drug issues related to him more easily due to his background.
"They can see the passion, honesty, reality and empathy," he said.
For more information visit www.castlecraig.co.uk
"They know I've been through it and that I know what they're going through."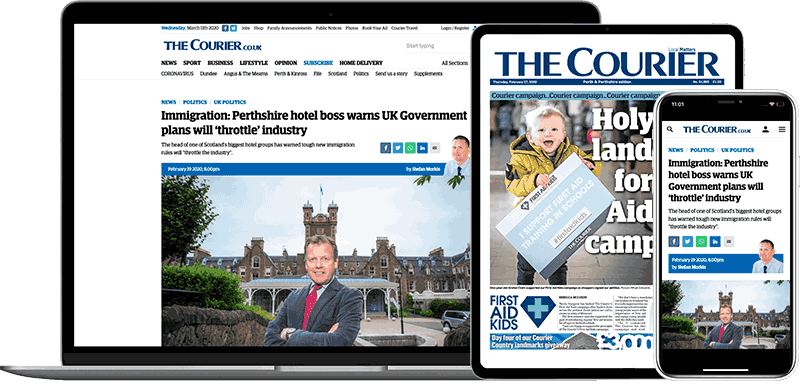 Help support quality local journalism … become a digital subscriber to The Courier
For as little as £5.99 a month you can access all of our content, including Premium articles.
Subscribe