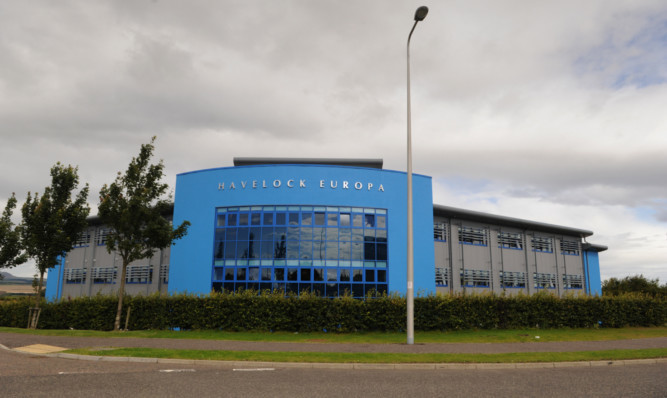 One of Fife's largest employers was plunged into crisis on Tuesday when a major contract loss put hundreds of jobs at risk.
Panicked investors wiped almost £2 million off the value of Havelock Europa's shares after the company lost out on a contract tender with Lloyds Banking Group,its largest single customer.
Revenue streams attributed to Lloyds were worth £14m to Havelock this year.
"With reduced levels of construction activity planned for next year, we are focusing the bulk of this workload through two contractors and recently completed a competitive tender process for this work," a spokesman for Lloyds said.
"While Havelock Europa was unsuccessful in this tender, they do remain a supplier and will continue to be offered specialist projects."
The loss of such a sizeable contract equivalent to around a sixth of total income in 2014 comes at a difficult time for Havelock. It announced in September it was cutting around 50 jobs, following a review of operations instituted when chief executive David Ritchie joined the business in May.
It now appears inevitable that figure will rise significantly, although the company made no immediate moves yesterday other than informing the workforce of the situation.
A significant proportion of the workforce is solely dedicated to Lloyds contracts, carrying out branch and office fit-outs and various refurbishment works.
The Courier understands Havelock management will be meeting over the coming days to review operations, in a bid to identify where further cost savings can be made.
Mr Ritchie said it is a difficult moment for the company.
"Today's news is disappointing, clearly, but underlines the importance of our strategy to further diversify our customer base to become less reliant on a small number of contracts," he said.
"The simplified business model we are implementing will also help us maximise the customer experience across that broader portfolio of clients.
"We are committed to delivering that change and thus mitigating the impact of this decision in 2016 and beyond."Further pain for FifeThe latest blow to Havelock has heaped more misery on Fife's struggling jobs market.
Like many before them, workers at the Kirkcaldy headquarters face an uncertain future with just weeks to go before Christmas.
With job losses inevitable, localpoliticians pledged their support for the 400-strong Fife workforce.
Kirkcaldy MSP David Torrance said: "I'm disappointed that Havelock has lost one of its biggest customers. This will have implications for the company. I have been assured that the boardwill work through all possible scenarios and options to minimise the impact on the workforce.
"I will also be asking the ScottishGovernment what assistance can be given to help the company and anybody who is made redundant.
"Christmas is coming up and people have families to support. This certainly doesn't help anybody."
Claire Baker MSP said: "The latest news regarding Havelock Europa isdisappointing and obviously raisesmore fears of potential job losses atthe company. I have spoken with senior management in the company who have assured me that they are doing as much as possible to mitigate the impact ofthe announcement.
"I will continue to keep in contactwith the company to ensure thatthey have all the support theyneed in their plans to diversify andmaintain as much of their workforceas possible."
Fife Council leader David Rosssaid: "Council officers have been in touch with the company today.We will do whatever we can tosupport the company through thesedifficulties."