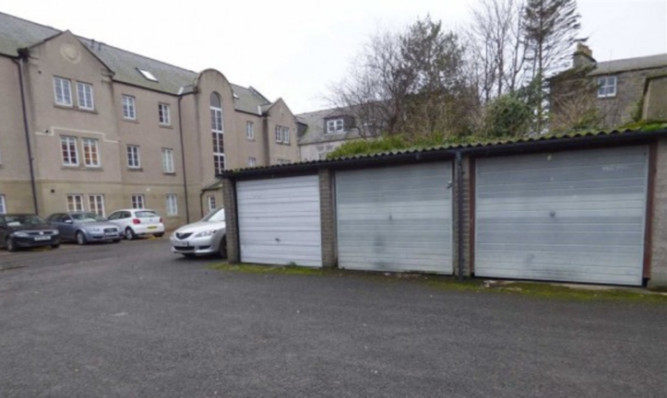 A single garage in St Andrews has been put up for sale for an asking price higher than a three-bedroom flat elsewhere in Fife.
Although the lock-up in Alexandra Place is only just big enough to accommodate a car, its price tag of around £28,000 is greater than several homes currently on the market across the region highlighting just how valuable property space is becoming in the historic university town.
A survey by the Bank of Scotland suggested St Andrews is Scotland's most expensive seaside town, with an average house price of £294,586. That was marginally ahead of North Berwick, where houses sell for an average of £294,076.
However, the fact a garage measuring just under five metres by just over two-and-a-half metres could well go for £30,000 once again underlines the premium being placed on property at the Home of Golf.
Solicitors Thorntons, which is marketing the garage, says the availability of a lock-up single garage in the heart of the town is "rare" and describes the sale as "an exceptional opportunity not to be missed".
It also highlight the fact that St Andrews is synonymous with golf and notes its renown as a university town and holiday destination.
The £28,000 price is £1,000 more than the price of a one-bedroom, first-floor flat on Mains Road in Dundee, while it is £3,000 more than the cost of a three-bedroom duplex in Abbotsford Court, Glenrothes.
A two-bedroom flat in Wellesley Road, Methil, is currently on the market for offers over just £12,000.
Despite that, expectations are high that the single garage space in St Andrews will be snapped up quickly due to the demand in the area.
The St Andrews garage pales into insignificance compared to a similar-sized shed in south London that sold at auction last week for a staggering £208,000, not far off the average cost of a UK home.
The brick garage, which had a relatively modest £48,000 guide price, was sold on behalf of Wandsworth Council and boasted "public transport available from the nearby tube station".
In May a house overlooking the Old Course at St Andrews sold for more than £2.25 million within just a week of going on sale and is believed to be the highest-priced sale in Scotland so far this year.
The four-bedroom property boasts a drawing room that overlooks the Old Course, as well as views of the Firth of Tay and the West Sands.