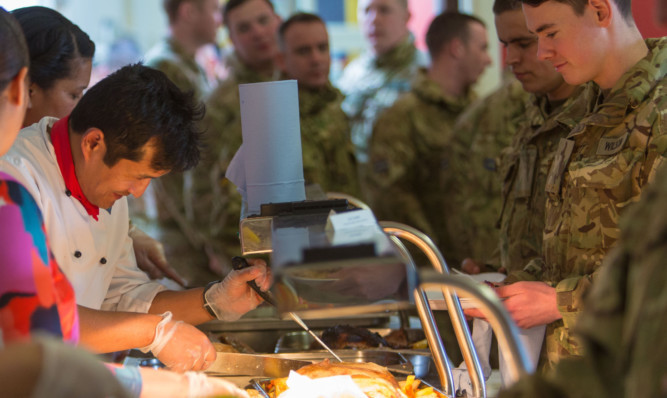 Army personnel and members of the civilian community were united at Leuchars Station on Thursday March 10 as a fundraising lunch was held for families of serving soldiers impacted by Cyclone Winston in Fiji.
The charity lunch, with food cooked in a traditional Fijian Earth Oven by the Fijian community, was supported by military chefs.
Local farmer Harry Black was hugely supportive, donating vegetables for the event, and children from Leuchars Primary School were also invited.
The Leuchars-based Royal Scots Dragoon Guards (SCOTS DG) has 25 Fijian soldiers attached to the regiment, many of whom have families that have been severely affected by Cyclone Winston.
Another Leuchars-based regiment, 2 CS Bn Royal Electrical and Mechanical Engineers (REME) also have a strong Fijian presence.
SCOTS DG regimental signals officer Captain Chris Pyman told The Courier: "It has been decided to host a fundraising lunch to raise funds which can be distributed equitably amongst the Station Fijian community to have a direct impact back at home.
"A lot of our Fijian guys have families who have been affected. Some of their villages have been completely washed away.
"Whilst it's an emotional time for them, our Fijian soldiers tend to keep things to themselves. They tend to take the stiff upper lip approach and would never ask for help.
"But when help was offered by the Station, it has been gratefully received, and we are delighted to pull together. Many of these guys have served with us in Iraq and Afghanistan, and you can't put a price on that."
As reported by The Courier last week, Fijian soldiers from SCOTS DG held a special prayer service whilst on exercise in Warcop, Cumbria, last week.
Severe tropical Cyclone Winston was the strongest tropical cyclone to make landfall over Fiji on record, forcing tens of thousands of people from their homes and killing 43 people.
The system was first noted as a tropical disturbance on February 7, when it was located to the northwest of Port Vila, Vanuatu.
Over the next few days, the system gradually developed as it moved southeast, acquiring gale-force winds by February 11.
The following day it underwent rapid intensification with winds of 175 km/h (110 mph) reached. It struck Fiji's archipelago of 300 islands as a Category 5 storm on February 20.
Total damage was estimated at FJ$1 billion (US $460 million).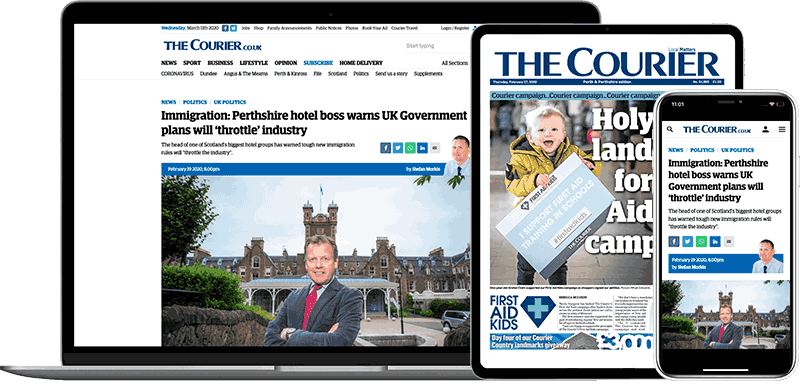 Help support quality local journalism … become a digital subscriber to The Courier
For as little as £5.99 a month you can access all of our content, including Premium articles.
Subscribe