Police have launched an investigation after a Dunfermline man was found dead on his living room floor.
It is understood Duncan Banks, 39, was discovered lying motionless in his Abbeyview flat by a friend who hadgone to check on him at around 5pmon Monday.
A source said it appeared he hadbeen beaten.
Mr Banks had been dog sitting for friends, who became concernedabout his welfare when he failed to answer his phone.
"They couldn't get hold of him," said the source.
The couple then used a ladder to climb up to the top-floor flat where Mr Banks lived alone and looked into the living room window.
They discovered his lifeless bodyon the floor.
It is understood his television wasstill switched on.
The source added: "He had obviously been battered.At the end of the day, how long had he been lying there? They're saying he was last seen on Friday.
"I last saw him walking along the street. He was a quiet guy."
Police told The Courier they aretreating the death of Mr Banksas unexplained.
The investigation has seenofficers carrying out door-to-door inquiries.
According to a neighbour, policecordons appeared overnight between Monday and yesterday, when a large area around Mr Banks' home inSkye Road was closed off, from the street's junction with Gellatly Road to Allan Crescent.
By late afternoon, a privateambulance had arrived at the scene to remove the body.
Forensic officers wearingprotective clothing could also be seenin the street.
A police spokesman said: "Policein Fife are investigating followingthe discovery of the body of a man atan address in Skye Road,Dunfermline, around 5pm on Monday September 28.
"The death is currently being treated as unexplained and inquiries into the full circumstances are ongoing."
A local resident told The Courier: "We were quite shocked. Everybody knew who he was. The whole street wascordoned off."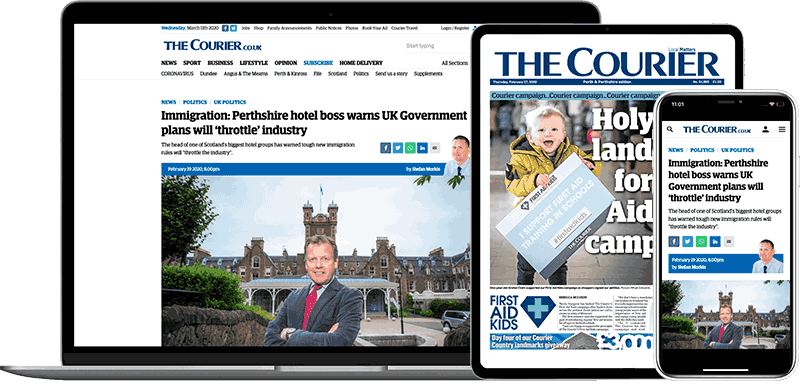 Help support quality local journalism … become a digital subscriber to The Courier
For as little as £5.99 a month you can access all of our content, including Premium articles.
Subscribe