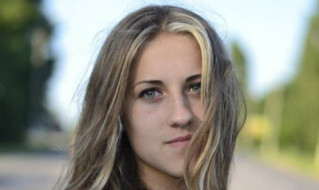 A teenage orphan at the centre of a visa mix up will be reunited with the loving family in Fife who cared for her after The Courier secured flights.
Yaroslava Naida was supposed to be reunited with Anna Beattie in Cupar after forming a bond with the caring education worker eight years ago.
She was scheduled to travel to Scotland on Sunday but her grandmother, who the 14-year-old lives with in Chernobyl, said she was only made aware of the decision to grant a visa on Tuesday night. This is despite Home Office sources insisting a U-turn on initially rejecting her application was performed last Friday.
After The Courier contacted KLM – who Anna had booked the nonrefundable flights with – the company agreed to stump up a voucher to replace them, much to the delight of the families.
Mum-of-three Anna said: "Yaroslava won't get home for Christmas now because when she and her grandmother went to Kiev to get the visa they were told they won't be ready until Monday or Tuesday next week.
"At least she's still getting here, though. I've told the kids we will just have a second Christmas. It's a lovely gesture by KLM. At least something has gone right."
Yaroslava first came to the UK as a six-year-old after both her parents died.
She underwent life changing therapy with Anna with fellow charity workers describing the then six-year-old girl's transformation from "bedraggled" to happy and healthy.
A spokesman for KLM said the airline was "sorry to hear of the story of Yaroslava who will miss out on spending Christmas with the family who cared for her when she was very young".
He added: "Her ticket was not changeable but as a gesture of goodwill KLM have offered the family a voucher for the value of the ticket they bought which the family will be able to use towards a future journey.
"KLM wishes the family and Yaroslava Naida a happy Christmas."
North East Fife MP Stephen Gethins, who has supported the families during the quest to get the visa approved, praised the airline for the "tremendous gesture".
He said: "This will be some welcome Christmas news for Yaroslava and her Scottish family so that hopefully she can join them soon."