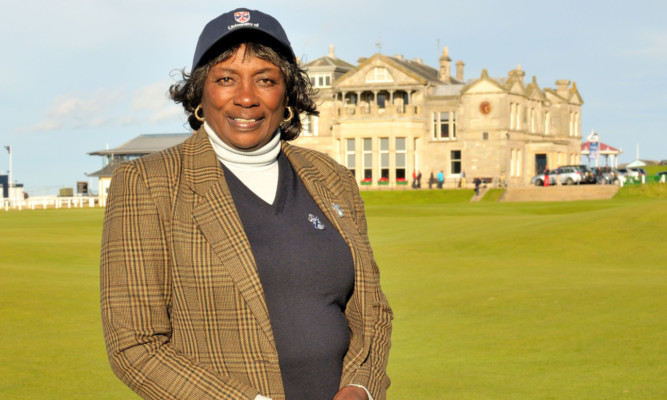 When Renee Powell became the first woman golfer to receive an honorary degree from St Andrews University in 2008, she was accompanied on the trip by her late father Bill and by a party that included Brian Whitcomb, then president of the PGA of America.
At the time, she described the experience as "absolutely the most incredible thing that has ever happened to me and the icing on the cake was having my dad there with me."
She viewed the trip as a thank you to her father who overcame major challenges of his own in life.
The great-grandson of Alabama slaves, he battled racism to become the only African-American to build, own and operate a golf course, and was renowned as a selfless ambassador for building diversity in the game and making golf a beacon for people of all colour in the USA.
It was her father who first put a shortened club in her hands at the age of three and inspired her on a path which saw her emerge onto the professional golf scene in June 1967 becoming only the second African-American to join the LPGA tour.
But following the passing of her father aged 93 in 2009, Renee admits that her St Andrews University degree has now been eclipsed by the "honour and shock" at being one of the first seven women to be nominated for honorary membership of the Royal and Ancient Golf Club of St Andrews.
The former American LPGA tour player stepped foot in the Royal and Ancient Clubhouse for the first time during the Open Championship in July.
But having returned to St Andrews for the R&A annual dinner ahead of the 2015 Alfred Dunhill Links Championship, she's still amazed the club has even given her a locker with her name on it!
In an exclusive interview at the Old Course, the down-to-earth 69-year old told The Courier: "Would my younger self have ever envisaged me becoming a member of the R&A? Are you kidding? Never, ever! I couldn't even have conceived of the idea. My love for England and Scotland came from my dad. He was treated so well when he was over here during the war and played golf. So when I first came over to Sunningdale to play in the LPGA in 1972, I already had a positive love of both England and Scotland because of his treatment.
"To come here in 2008 was very emotional for me. It was my gift to him for his gift to me.
"But R&A membership tops the degree, because I'm a golfer. For me it's the highest mountain you can climb. This is after all the home of golf."
It was announced in February that Renee along with fellow professional golfers Laura Davies, Belle Robertson, Lally Segard, Annika Sorenstam and Louise Suggs had accepted honorary member invitations.
The Princess Royal also became a member following the historic vote last September by the Royal and Ancient to allow women members for the first time in its 260-year history.
Renee now manages Clearview golf course in Ohio, which was built by her late father.
She said golf has a "unique power" to bring people of all races and nationalities together and to "break down barriers".
She said the R&A debate was not something she'd thought too much about before it happened.
But she said the changes were "inevitable" and "made a lot of sense".
She said: "Things are changing. There are more women in executive positions in the world. There's not that same glass ceiling that there used to be for women. It's still there, but not exactly the same. As the whole world has grown so has the game of golf, when it comes to diversity and fairness .
"In the States, the fastest growing area of golf is women. If you want the game to stay healthy and to grow, you can't expect it to continue if people age out. In the States, caddies are dying out because of golf buggies. And yet in the past young people would go out and learn the game that way.
"For women not only is it recreation, therapeutic, but there are also great networking opportunities from a business standpoint."
Renee's nomination came about following nine years of work with New Links, a St Andrews-based charity with years of experience in working with the inspirational American.
New Links was founded in 2006 with the aim of helping children from less privileged backgrounds visit St Andrews and pursue a college education and, so far, around 100 young people from overseas have participated in New Links events.
As a world golf ambassador, Renee is dedicated to helping military veterans through Clearview HOPE (Help Our Patriots Everywhere).
Renee added: "My parents always said to leave the world in better shape than when you found it. Using that talent and those abilities you have to try to do that."
It's a high ideal that she certainly adheres to.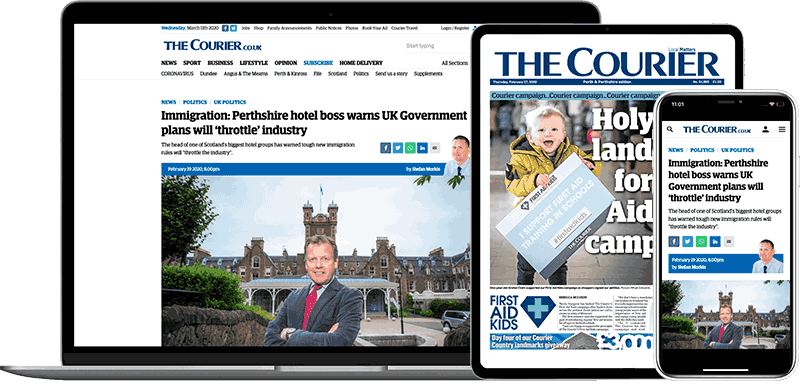 Help support quality local journalism … become a digital subscriber to The Courier
For as little as £5.99 a month you can access all of our content, including Premium articles.
Subscribe