 The winner of the Open Championship will earn more than a million pounds for the first time ever when he lifts the coveted Claret Jug at St Andrews on Sunday.
The overall prize fund for the game's oldest major championship has increased £900,000 to £6.3million, with the champion receiving a cool £1,150,000.
But that's not the only display of wealth on display at the championship this week.
Step foot in the tented village on what is normally the Links Trust driving range behind the Old Course Hotel, and prepare to be immersed into a world of corporate sponsorship.
The Rolex Experience and Mercedes Benz marquees sit comfortably next to the Mastercard Club and HSBC Golf Zone.
If you can't decide whether to opt for The Champagne Bar or the Glenmorangie House for a sneaky beverage, you can always ask one of the crossing marshalls for advice this year kitted out in smart blue Ralph Lauren jackets and caps.
There's plenty food options on offer too. Rotisserie chicken, roasted pork, wood fired pizza and fish and chips are just some of the choices on offer.
But if you do decide not to bring a packed lunch, be warned – eating fish and chips out of polystyrene will set you back a whopping £8.50, sausage and chips £8, an Open Burger £6.50 and Crinkle Fries with Jalepeno Cheese £4.50. Even a 99 will cost you £3.50 (go figure that one!)
And if you want a souvenir? Well, of course there's the main merchandise tent simply called 'The Shop' selling everything from umbrellas at £36, 18th hole flags for £20 and rubber inflatable golf balls at £12.
For foreign visitors there is even a "ship your purchases home" facility.
Let's not forget that if adult golf fans have got this far, it'll have cost £75 per head per championship day (£100 for the final) to gain entry, with no change out of a £10 note if you want to buy the official programme.
But if all this expense does leave you feeling light-headed, the tented village does offer some relief.
Bean bags have been placed in front of the giant TV screen for spectators to crash out on.
There's also a crazy golf 'Links Challenge' to contend with and even a soft play area for the youngest visitors. Under-16s of course gain entry to the course for free every day.
So a trip to the Open ain't cheap. But it's always something special particularly at St Andrews.
And after a perfect round, at least you know the bar staff will always welcome you in the beer tent with Open Arms!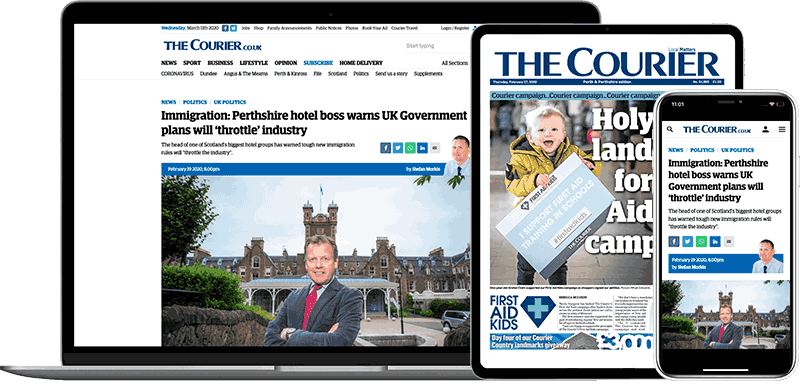 Help support quality local journalism … become a digital subscriber to The Courier
For as little as £5.99 a month you can access all of our content, including Premium articles.
Subscribe