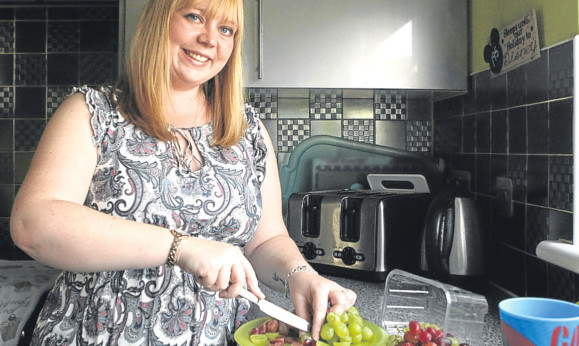 A mum whose warning of the choking hazard of grapes went viral is campaigning for supermarkets, restaurants and councils nationwide to serve the fruit sliced.
Saddened by the recent death of two-year-old Jacob Jenkins in a Pizza Hut restaurant, childminder Emma Michie posted advice about slicing grapes lengthways before giving them to children.
She was astounded when the message, intended for parents of the children she looks after, was shared more than 600,000 times around the world, reaching tens of millions of people.
Inspired by the response, she contacted several supermarket and restaurant chains and every UK council pressing them to ensure grapes for children are chopped.Emma, 30, who runs Jack in the Box Childcare in Dalgety Bay, said Tesco was enthusiastic about changing its fruit snack packs for children.
She told The Courier: "My little boy Jack is the same age as Jacob so his death really hit home. I set out just to give a warning to my parents and it spiralled.
"Because it went so viral, I couldn't just leave it at that.
"So many people didn't realise the dangers.
"I've had so many messages of thanks, even from first-aiders and carers who have been trying to get the message out there. The response has been amazing.
"So many people didn't realise the dangers. It's brilliant that I've managed to change people's minds and make them think twice."
Councils Emma has contacted have passed on her advice to education departments and are checking whether grapes are cut in their school canteens and nurseries.
She said many schools, nurseries, restaurants and supermarkets serve whole grapes, apparently unaware of the risk.Grapes are among the most common causes of death by choking according to the Royal Society for the Prevention of Accidents, alongside hot dog sausages and cherry tomatoes.
Emma said: "Simply cutting them in half lengthways could prevent an incident being fatal. Grapes, because of their size and shape, are the perfect size to become lodged in a child's windpipe and once there, are almost impossible to dislodge."
Jacob died in hospital in Newcastle a week ago, five days after choking on a grape in Pizza Hut in Hartlepool, which subsequently removed the fruit from its menu.