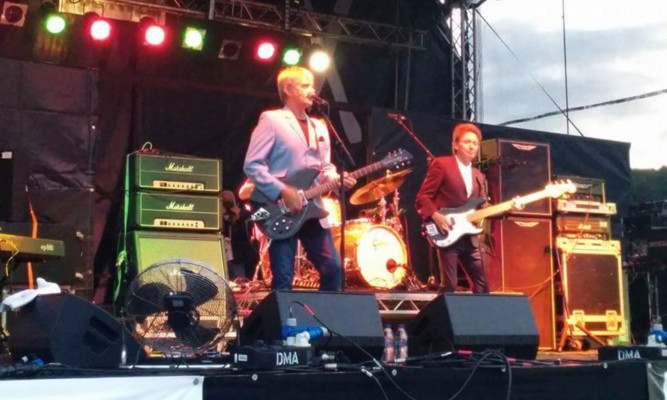 A sports ground in Fife was transformed in to the Fields of Fire on Saturday as big name bands rocked Dalgety Bay.
From the Jam, Big Country, Ex Simple Minds and The Animals and Friends performed against a backdrop of motorbike engines at the PKD Festival.
The event took place in the grounds of the Dalgety Bay Sports and Leisure Centre with over 12 hours of live music.
The festival also featured the largest motorbike show of its type on the east coast as major manufacturers and clubs joined forces from all over the UK.
There was also a fun fair, a kids zone and a market with all proceeds raised going to Kingdom Kids.
From the Jam and Ex Simple Minds arrived in Dalgety Bay after performing earlier in the day at the Rewind Festival at Scone.
Forever Young, Steeler, Emerald Sunday and the brilliant Kirsten Adamson – whose set oozed class – warmed up the crowd in the sun.
The Animals and Friends kept up the early tempo as they stormed through a packed catalogue of classic 60s hits.
We Gotta Get Out of This Place was among the highlights before a mass sing along broke out for the iconic House of the Rising Sun.
Tam Scott brought a touch of America to Dalgety Bay when he performed his Neil Diamond tribute act with all the passion of the original Jazz Singer.
Ironically the heavens opened as Ex Simple Minds arrived on stage and performed Waterfront – and it didn't stop for the band's entire set.
Owen Paul – famous for the 80s hit My Favourite Waste of Time – was on lead vocals and Paul and the band had the crowd dancing in the rain to hits such as Don't You Forget About Me and the rousing finale of Alive and Kicking.
Big Country appeared just after 7pm and performed a greatest hits set with some rarely performed songs proving the highlight.
We're Not In Kansas and King of Emotion were well received by the Big Country faithful alongside the more established hits such as Fields of Fire, Chance and Look Away.
Organiser Mark Bennett then performed with his covers band Blue Delta with a brilliant Queen medley getting everyone in the mood for the headline act.
From the Jam didn't disappoint and what a start – Town Called Malice got the crowd jumping around from the very opening chords of a strong set.
To Be Someone, Start, Going Underground, That's Entertainment and Eton Rifles only served to turn things up a notch.
Bruce Foxton and Russell Hastings proved they are masters of their craft and From the Jam's performance was the perfect end to what had been a fantastic day of entertainment – all for a great cause.
The last word went to festival organiser Mr Bennett who said the festival proceeds will do so much to help children in Fife and he praised everyone for helping raise money for Kingdom Kids.