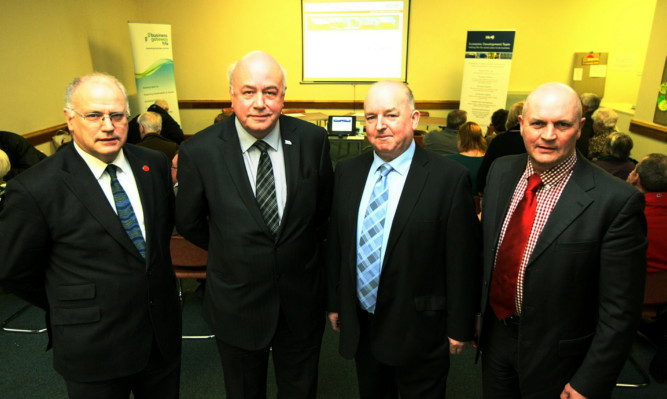 Anger erupted after the Scottish Government denied £9 million of "vital" economic regeneration funding for Longannet in Fife.
Local authority leader Councillor David Ross said he was "disappointed" by the Government's decision to reject a plan he said was "essential for the future economic vitality of the area."
The document collectively drawn up by Fife, Clackmannanshire, Falkirk and North Ayrshire councils along with Scottish Enterprise and Skills Development Scotland/PACE was the local response to ScottishPower's decision to shut Longannet power station early at the end of this month.
The facility's mothballing impacts more than 230 jobs directly and hundreds more in the wider supply chain.
Local politicians had expected their recovery plan would be rubber-stamped and it was anticipated that Business Minister Fergus Ewing would announce the cash at yesterday's third meeting of the Longannet Taskforce.
However, no such commitment was made and the Scottish Government later confirmed to The Courier the plan would not receive the funding requested.
"The Fife Taskforce established in the wake of the Tullis Russell closure had £6m allocated to it for economic recovery, but so far there has been no similar commitment for Longannet, despite a strong case being presented to the minister today," Councillor Ross said.
"This is a worrying time for Longannet workers and contractors, as well as many businesses across Scotland that rely on the plans.
"This is why we need to do everything we can to support local people, employees and businesses to mitigate the economic impact of the closure as far as possible.
"We cannot afford to ignore the call from local people and affected businesses for resources to be committed to drive this important plan forward.
"Taskforce members are already aligning existing resources and activity to help address immediate priorities including workforce support, but the additional resources set out in the draft plan are critical if we are to continue this support and successfully ensure future economic recovery.
"I will continue to press the minister to commit the resources necessary to take this plan forward."
Mr Ewing said the taskforce was focused on the needs of both the Longannet workers and the wider area.
"In delivering an Economic Recovery Plan, members today agreed to explore the constituent elements in detail, to determine the most appropriate way to deliver the best outcomes," he said.
"Our agencies will engage with local authorities to look at how the overall package can be brought together.
"The Scottish Government, Scottish Enterprise and Skills Development Scotland already bring a huge amount of investment to the wider area.
"Across the public sector we need to ensure that our resources are being used as effectively as possible and Task Forces exist to join up our response to maximise the impact no one would expect an additional pot of money to be set aside for taskforces."