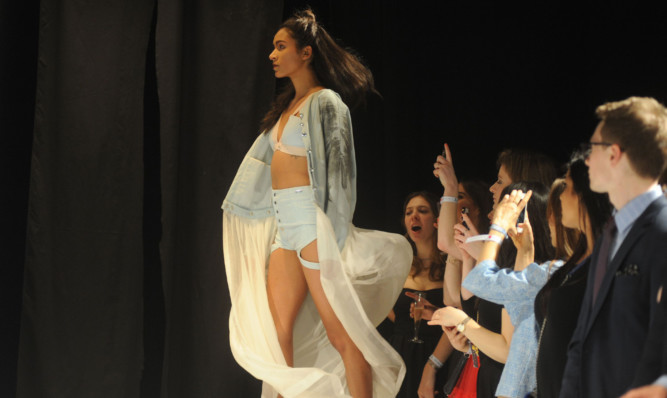 With more than 650 guests attending the annual St Andrews Don't Walk charity fashion show, things were always going to get a little hot under the collar.
It was, after all, the event at which Kate Middleton sashayed down the catwalk in a transparent dress, catching the eye of a blushing Prince William in 2002.
This year, models were showcasing both big fashion names and student designers.
The crowd eventually moved over to the bar for a raucous after party, not leaving until the wee hours. All in the name of charity, of course.
The show featured student models from all over the world wearing a selection of high-end pieces from brands including Lanvin.
Don't Walk secured sponsorship deals from Michael Kors, Nars, the Old Course, Piper-Heidsieck Champagne, Hawthron Gin as well as Carthouns Gin and the after-show party was hosted Craig Wilson, voted in the top five DJs in Scotland.
For the St Andrews University students who organised the 2015 Don't Walk fashion show, held this year in a converted barn at Kinkell Byre, just outside St Andrews, it was a job well done.
PR and marketing director Mesky Loane said: "In the wake of the 9/11 attacks in 2001, a multinational group of St Andrews students, 3,000 miles from the epicentre, decided to respond.
"Don't Walk was born, a symbolic response in essence, its spirit youthful and cosmopolitan, unafraid and unbound by rules.
"Since the birth of Don't Walk our underlying message has remained constant combining the mediums of art, fashion, and performance into a fashion show that challenges all forms of violence.
"We strive to challenge all forms of structural inequality by influencing both public discourse and contributing to organisations that support education and conflict prevention efforts. We have chosen to go back to our roots in New York and support the Robin Hood Foundation, which focuses on solving the problems created by socio-economic imbalances.
"Robin Hood operates using a venture capitalist approach that allows it to allocate funding in the most efficient and helpful manner."