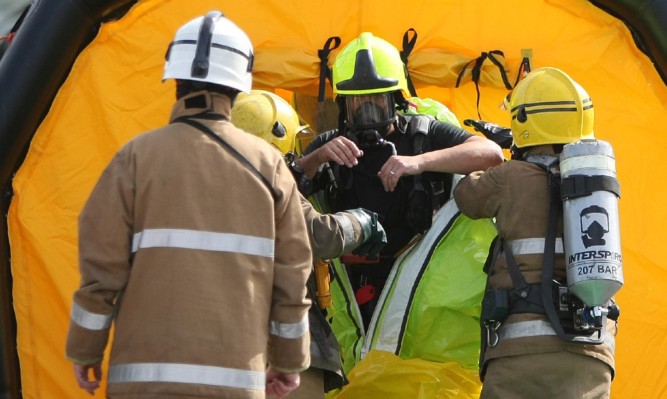 The outcome of Tuesday's chemical leak in St Andrews could have had grave consequences, according to a swimming pool maintenance expert.
Fortunately, none of the 14 adults and five children who were exposed to gas in the incident at East Sands Leisure Centre were seriously hurt.
However, Allen Wilson, president of the Institute of Swimming Pool Engineers, said the substance has the potential to kill.
He told a radio programme: "From my reading it's a release of chlorine gas. In the worst case scenario, inhalation of chlorine gas could be fatal depending on the person's respiratory condition.
"The chemical used for disinfection is liquid chlorine, which is basically bleach. It contains 15% active chlorine and is very alkaline.
"If this is allowed to mix with acid, first of all there is quite a severe reaction, which could account for the big bang. Then what it would do is release copious amounts of chlorine gas."
Mr Wilson said inadequate inspection of swimming pools is a nationwide problem.
"We don't drink and drive because it's policed effectively. Sadly, swimming pools in the UK are not policed effectively.
"They will be swarming all over them today reactively, but if someone had been going round proactively they could have possibly spotted the hazards and done something to prevent them.
"To be truthful, I don't think the people from the EHO (environmental health officers) or health and safety have got the experience or the knowledge to see these hazards."
He said it was essential that trained leisure centre staff were on duty to prevent accidents.
"Their main duty might be duty manage. They may not be plant room people. These are the sort of faults which could have contributed to this hazardous situation which was realised yesterday."
For the latest on the leak, see Thursday's Courier or try our digital edition.