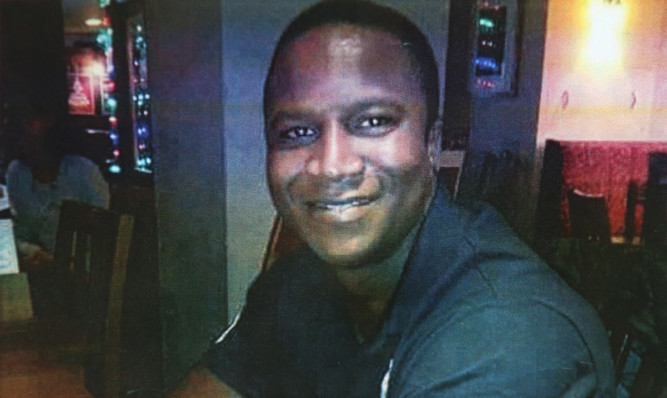 The family of Sheku Bayoh has called for heads to roll amid serious allegations regarding the conduct of Crown experts probing the Kirkcaldy man's death.
The 31-year-old's relatives have demanded the dismissal of forensic pathologist Dr Steven Karch, after he apparently revealed details of his findings to a tabloid newspaper.
They have also called for an investigator employed by the Police Investigations and Review Commissioner (Pirc) to be removed from the inquiry.
Family members, joined by solicitor Aamer Anwar, held talks with Lord Advocate Frank Mulholland QC to discuss their concerns.
Mr Anwar said the Bayoh family had been horrified to read comments in the Scottish Sun on Sunday attributed to US-based Dr Karch. He reportedly claimed there was evidence Mr Bayoh had been suffering from heart disease and there were traces of ecstasy and so-called legal highs in his blood.
Father-of-two Mr Bayoh died on May 3, shortly after being detained in a Kirkcaldy street by police responding to reports of a man brandishing a knife.
An independent inquiry is being carried out by Pirc, the police watchdog, which is expected to release a full report on the matter next year.
Following Thursday's meeting, Mr Anwar said: "In our jurisdiction it is a well-established practice that independent experts instructed by the Crown do not under any circumstances speak to the media whilst there are pending court proceedings.
"It was also suggested by Pirc investigators to the Lord Advocate that our expert, Dr Nat Cary, had supported their instruction of Dr Steven Karch. Following investigations, this has turned out to be untrue and, in fact, Dr Cary has described such claims as duplicitous."
He added: "The family believes, at this critical stage of the investigation, if there is even the slightest hint of impropriety, then the Pirc commissioner must take robust action if she is genuine about her commitment to carrying out a thorough and robust independent investigation."
A Pirc spokesman said: "The ongoing investigation into the death of Sheku Bayoh is complex and wide-ranging and all relevant lines of enquiry are being objectively explored.
"The selection and instruction of expert forensic pathologists is a matter for the Lord Advocate.
"The commissioner is committed to delivering a thorough, impartial and independent investigation and a final report of our findings will be sent to the Lord Advocate in due course."
A Crown Office spokesman said it would not be appropriate to divulge details of the private discussion but reiterated the Lord Advocate's commitment to keeping the Bayoh family informed.