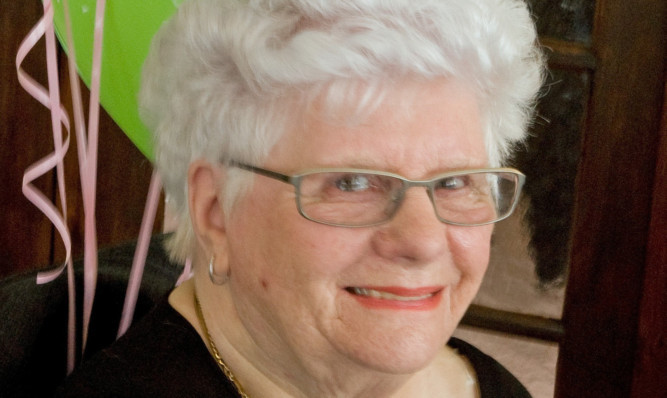 A Fife pensioner found dead in her home will be remembered for her "kind heart", her funeral has been told.
Around 190 people gathered at Leven Parish Church for the service to remember 82-year-old grandmother Mary Logie, also known as Rae, who was found dead in her flat in January.
Reverend Gilbert Nisbet led tributes to Mrs Logie, describing her as a "kind and helpful" woman who was a "rock" to her family.
Born and brought up in Methil, she worked in a local chemist after leaving school and before meeting her husband Walter.
She was married for 33 years and the couple had two sons and a daughter.
Mrs Logie later worked as a part-time cleaner at a local photography business and as a home help, and was involved with the Church of Scotland Guild.
She was found battered to death in the living room of her first-floor flat in Green Gates, Leven, on January 5.
She had recently spent Christmas with one of her sons in England and was said to have led an active life, with lots of friends.
Mr Nisbet said the town is still struggling to comprehend what happened.
"We gather today, a community shocked by the event which caused the death of Rae Logie, struggling to comprehend all that has happened here among us," he told the funeral.
"Our service this morning is overshadowed by the terrible action which caused Rae's death, but we must not let this predominate our gathering, nor allow it to fester into bitterness in our hearts.
He added: "Rae had a kind heart and she was always willing to go the extra mile to be helpful.
"She cared for those she assisted and continued to visit them after she retired.
"Rae was able to look back with quiet pride and genuine satisfaction on all that she did through her working life."
Mr Nisbet also spoke about Mrs Logie's marriage.
"Rae met Wattie when they were introduced by a mutual friend at a party, marrying after a short courtship and enjoying 33 years of a close, strong, supportive and loving marriage.
"They were always together, except when Wattie went fishing – Rae drew the line at joining him in that – and she missed him terribly after his death.
"However, she managed – showing that stubborn determined streak which was one of her characteristics.
"She even leant to drive, although she did have several attempts before passing her test."
Donations made at the funeral are to be given to Leven Parish Church and the Scottish SPCA.
A statement from Mrs Logie's son Derek said: "We would like to thank everyone for their kindness and support at this difficult time.
"We would ask that privacy for the family is respected as we grieve for our mother."
Sandra Gaughan or Weir, from Leven, has been charged with Mrs Logie's murder.