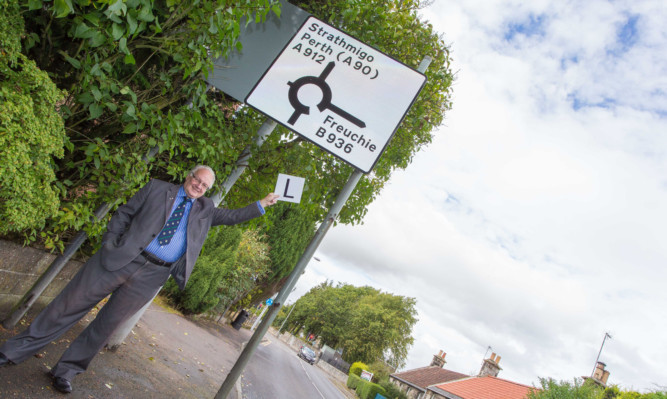 Fife Council is blaming an external contractor after a road sign was put up pointing the way to "Strathmigo".
A woman who has moved to the village says she first notived the mistake in June.
Fife Council confirmed its transportation department does know the spelling of Strathmiglo and the error was made by the external company which provided the sign.
However, Councillor David MacDiarmid questioned why the sign was allowed to be installed carrying the mistake.
He said: "I have to question why nobody noticed this until it was up. Somebody must have noticed it. If it was in Gaelic and the spelling was wrong, few people would have noticed, but in English, that's just stupidity.
"It's pretty shocking. What they should have done was get another one ordered up. You've got to question their competency."
The offending sign is located on the A912 on the approach to the roundabout at Falkland Primary School.
Senior transportation manager Derek Crowe said the council was taking steps to ensure future mistakes were caught earlier.
He said: "This road sign erected earlier this month was produced by an external supplier. Now that it's been brought to our attention, our supplier has been instructed to replace the sign at their own cost.
"We anticipate that the sign will be replaced by the end of November and we are reviewing our proofing process with the supplier to prevent future errors."
Maaike Cook, who is orginally from the Netherlands but now stays in Strathmiglo, said: "Travelling as the wife of a Scotsman, I discovered a mistake on one of the road signs here.
"Around me no one noticed this mistake. It was always taken for granted, I do suppose, as 'born and bred' in Fife no one pays attention to the road signs any more.
"It probably needs a pair of new eyes to notice things like this."
George Aitken, who chairs Auchtermuchty and Strathmiglo Community Council, said: "I think it speaks volumes. You would think the staff who were installing the sign would have noticed it.
"It leaves me speechless at times, some of the things done by transportation."