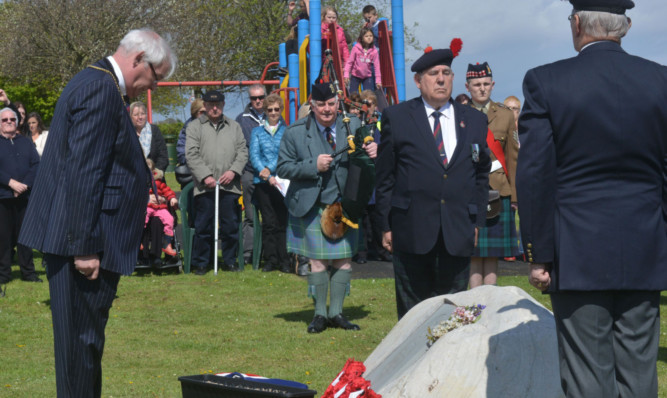 Tribute has been paid to a Fife soldier who was awarded the Victoria Cross for gallantry in the First World War.
David Finlay, who was born in Guardbridge and married in Cupar, was awarded the country's highest military honour "for most conspicuous bravery and devotion to duty" in France in 1915.
A Fife Council-organised ceremony on Saturday afternoon marked the actual centenary of The Black Watch sergeant's bravery, when he gallantly led a bombing party of 12 men.
A large stone, with a plaque, outlining Sergeant Finlay's bravery, was unveiled near the playpark at Guardbridge.
Tribute was paid by Provost of Fife Jim Leishman, the Lord Lietenant of Fife Robert Balfour and Major Ronnie Proctor of The Black Watch Association.
They were joined by members of The Black Watch Association, serving members of the 2nd Battalion The Black Watch and Royal British Legion Scotland Riders.
There was also a good turnout of Guardbridge Primary children and representatives from the community.
Tay Bridgehead Fife councillor Tim Brett said: "It's good that children from the school are here as well."
On May 9 1915, the 2nd Battalion of The Black Watch had moved into a forward position and, as well as facing enemy fire, had to overcome a wide, water-filled ditch.
When 10 of the group were injured two fatally the then Lance Corporal Finlay ordered the two survivors to crawl back while he went to the assistance of one of the wounded.
The lance corporal carried the soldier 100 yards to safety while under heavy enemy fire.
Born in 1893, David Finlay was a ploughman before enlisting in 1910 a month after his 18th birthday.
Promoted to corporal with the 2nd Battalion shortly after his act of bravery on the Western Front, a month later he rose further, becoming a sergeant.
The citation for his award was published in the London Gazette, with the VC presented by the king.
He was posted to the Middle East at the end of 1915. He was killed in action in what is now Iraq in January 1916.