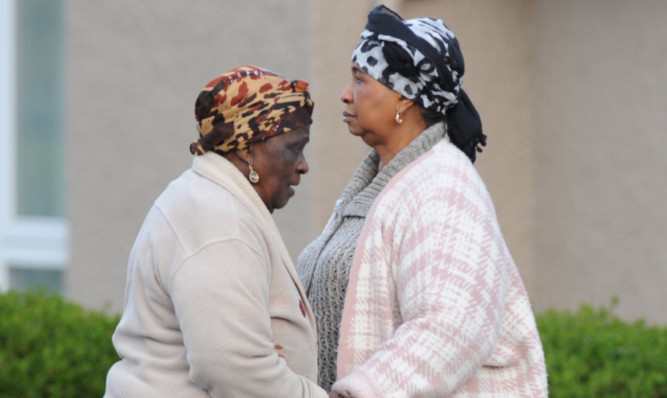 An emotional plea for justice was made by the mother of Sheku Bayoh following a meeting with investigators probing his death.
The family of the 31-year-old, who died after being arrested by police on Sunday morning, paid tribute to him on Wednesday evening at the spot in Kirkcaldy where the incident occurred.
Mr Bayoh's mother addressed about 200 people gathered at the corner of Hayfield Road and Hendry Road, close to the Templehall home the father-of-two shared with partner Collette Bell and their three-month-old baby.
Earlier in the day grieving relatives metrepresentatives of the Police Investigations and Review Commissioner.
The family's solicitor, Aamer Anwar, said it was unacceptable that they had been givenseveral different accounts of the circumstances leading to Mr Bayoh's death.
The PIRC has taken over the enquiry into the incident.
Mystery surrounds the exactcircumstances which led to the popular father-of-two dying, but sources have suggested he may have been the victim of "positional asphyxiation" while being restrained by police.
Mr Anwar said the cause of death had yet to be fullyascertained.
He revealed the family had instructed their own pathologist to act in the next few days.
Adding that the meeting had been extremely distressing for therelatives, he said: "To be fair, the PIRC have an important job to do.
"What we would stress is if anymembers of the public have any information they should contact the PIRC.
"If they don't feel comfortable doing that they should contact my office and we will put them in touch with the PIRC."
Mr Anwar added: "They were given at least five different versions of events by officers from Fife in the hours that followed Sheku's death.
"We expect that to form part of the investigation into the circumstances of Sheku's death.
"Clearly the family are trying their best to keep an open mind. That isdifficult when police officers aresystematically lying."
Mr Anwar said the family were extremely grateful to Mr Bayoh's friends and the local community for their support during such difficult circumstances.
"They will expect to hold a vigil within the next few weeks," he added.