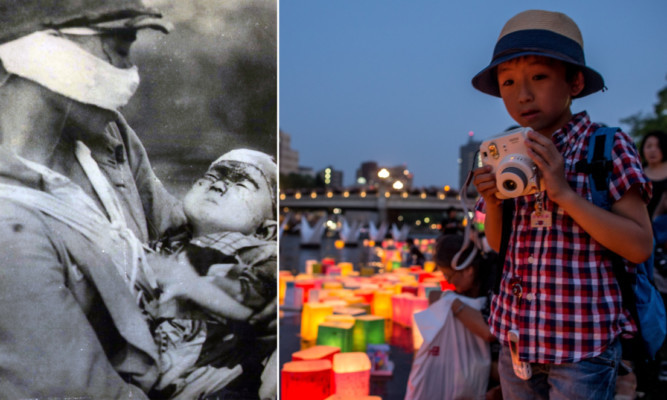 Haunting images which capture the devastating human cost of the attack on Hiroshima have gone on display in Fife.
Marking the 70th anniversary of the atomic bomb being dropped on the Japanese city, it is understood to be the first time the rare collection has been displayed in its entirety anywhere in the world.
What makes the collection on display in Scotland's Secret Bunker near St Andrews so unusual is how they came to be discovered at all.
The photographs emerged a decade ago, thousands of miles from Hiroshima, in a small Fife village.
Coaltown of Balgonie man John Ferns revealed the tale behind the collection, which captures one of the most infamous acts of war in recent history.
Mr Ferns' late father, Clifford, had stumbled across an undeveloped spool after buying a second-hand camera while serving in the RAF in Iwakuni, 15 miles outside Hiroshima, six months after the bombings.
It is believed the camera's original owner had died after taking the photographs as nobody could have survived the radiation levels within the area of impact so soon after the bombing.
The photos capture ghostly and harrowing images of survivors of the initial blast, with the exhibition including copies of 11 images on display.
The centre will also be showing the critically acclaimed and controversial film The War Game, commissioned by the BBC and directed by Peter Watkins, which depicts the fictional aftermath of a nuclear event.
The film was banned from being released by the BBC for more than 20 years, though it did appear as a cinematic release, which earned the film an Oscar for best documentary feature in 1966. It was eventually broadcast to the public in 1985, 40 years after the Hiroshima bombing.
Scotland's Secret Bunker owner James Mitchell said: "It is an immense privilege to display this rare and important collection of images. There are very few photographs of Hiroshima in the days after the bombing so these images are as close as people can get to understanding the true nature and utter devastation of the nuclear attack.
"We hope that visitors will come here to observe, reflect and learn more about the events of 70 years ago."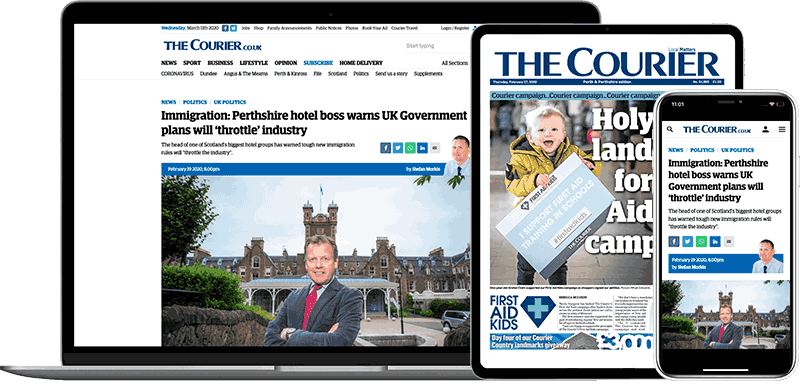 Help support quality local journalism … become a digital subscriber to The Courier
For as little as £5.99 a month you can access all of our content, including Premium articles.
Subscribe